Mold Remediation In Westport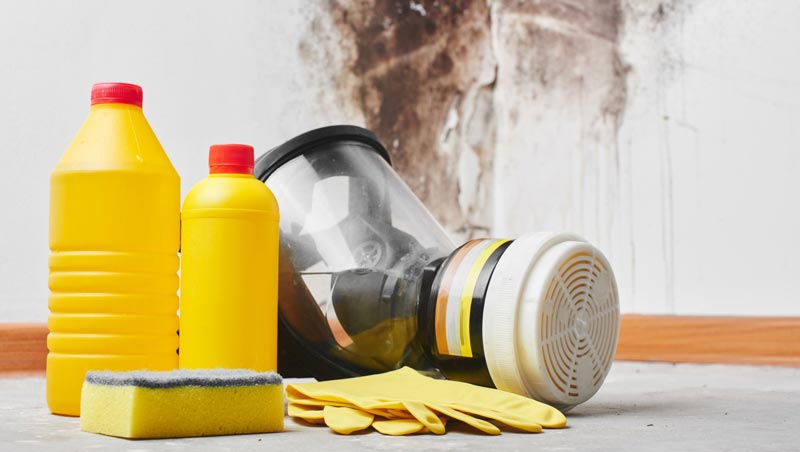 When a mold infestation has damaged your home, it may seem overwhelming. Furnishings, walls, flooring, and even the very foundation of your home can be rocked by water and mold. When the damage is too severe, mold remediation can restore your home to its pre-contamination condition, providing you with a livable, fresh home. At Connecticut Mold, the goal of our professional mold remediation technicians is to conscientiously remove the mold and then throw away and replace damaged materials.
Remediation Process
Mold remediation is more involved than any other service we provide at Connecticut Mold. It requires inspection, detection, testing, dehumidification, removal, material replacement, and clean-up. It should be no surprise that certain mold levels in your home are normal since mold is an element that is natural to our ecosystem. However, too much mold coupled with a water source can spell disaster. Mold proliferates, so after finding the mold in your Westport house, we need to ascertain the basis of the water feeding the mold colony and stop it. This water source could be caused by condensation from your air conditioning unit, the relative humidity in your home, a burst pipeline, or a small leak. Wherever there is water, mold is sure to follow. The first step is fixing whatever is causing the moisture issue so that the mold does not have anywhere to grow. This step is significant because the mold will return if the water source is not addressed.
To protect those living in the house and the mold technicians themselves, any area experiencing mold growth is cordoned off. By utilizing specialized plastic sheeting, the rooms infested with mold can be contained, limiting any sort of cross-contamination. Mold spores can easily be disturbed and sent airborne, possibly invading other spaces of your Westport home. The plastic sheeting and protective coverings ensure that mold is not tracked throughout the house and restrict airborne mold movement. This protective covering also limits the increased ingestion of mold spores, which can be harmful.
Certain types of mold, specifically species of Chaetomium and Stachybotrys, emit mycotoxins, chemical elements that can cause health hazards in humans and animals. Once disturbed, these mold spores and mycotoxins are ingested through the eyes, lungs, and skin, producing ill effects including respiratory problems, cognitive issues, and various allergy symptoms. Over a prolonged period, the consequences can be intensified and even more severe.
You may not be experiencing illness from the mold in your home; it varies from person to person. However, if the mold has been in your home long enough to damage your property, more than likely, your health is suffering from it, too. Our technicians are entirely outfitted in PPE or personal protective equipment. The technicians wear hazmat suits, goggles, face masks, vinyl gloves, and boots for their safety.
Once the home is prepped, it is ready for the next step. The technician scrapes any visible mold and scours the air, and the atmosphere is scrubbed using a HEPA filtered vacuum, which can collect even the smallest particulates. Any damaged or destroyed materials are removed, double-bagged, sealed for safety, and discarded. Cloths that have been destroyed are then replaced, like sheetrock, drywall, and flooring. While you may be tempted to return these items yourself or hire a handyperson, remediation should be performed by a licensed mold specialist.
All non-porous surfaces in the affected rooms are thoroughly wiped down, and an antimicrobial solution and sealant are applied to kill any leftover mold spores. After thoroughly cleaning any mold growth, metal, glass, and hard plastic items can be reused. Industrial-sized fans and dehumidifiers are used to dry the affected rooms to eliminate moisture and dry the antimicrobial agent.
Trust The Experts
Connecticut Mold has earned the reputation as a leader in the Westport area for expert mold remediation services. Our years of experience, qualified, certified technicians, advanced technology and equipment, and practical techniques ensure your remediation will be a seamless process. Our goal is to eliminate the mold colonies in your Westport home by replacing any damaged materials safely and efficiently while stringently following the guidelines and regulations set forth by our state. Once the removal and remediation processes have been completed, our technicians schedule a follow-up appointment to measure the existing mold levels.
Air and surface samples are once again taken from various areas of your Westport home and compared to previous and outdoor air levels. If classes are still elevated, the mold must be found and addressed. If mold levels have returned to normal, our technicians will provide you with tips to discourage new mold growth. Trust the experts at Connecticut Mold for your Westport home's mold remediation needs. Call us or schedule an appointment with us! Also, don't forget to ask about our additional mold services: dehumidification, mold assessment, mold removal, mold testing and mold inspection in Westport!