Did you know that mold is everywhere? Yes, even in your home. Certain levels of mold are normal, but when you start seeing mold or worse yet, smelling mold with no visible signs of infiltration, you have a problem. The experts at Connecticut Mold can help you find that hidden mold by performing a mold inspection service in Greenwich, CT.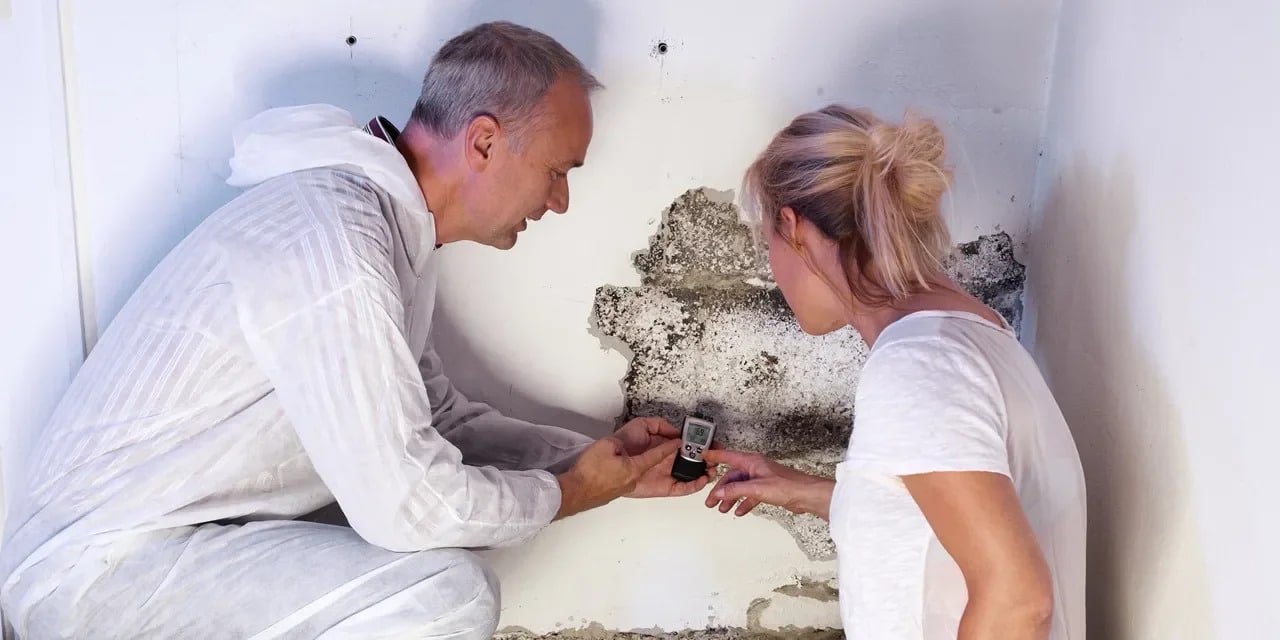 When moisture is introduced into your home, it can often lead to mold growth. This may be due to a leaky faucet or broken pipe, improper flashing on the roof, or water build up around your foundation. However, the water is penetrating your Greenwich home, it is setting up a prime environment for mold to grow. Now, since mold is natural, how do you know the levels in your home are out of whack? That's where the professionals from Connecticut Mold come in: we can provide a full inspection throughout your home to determine the mold's growth but more importantly, the source of the moisture. If the source is not fixed, the mold will return, even if you have it cleaned and removed.
You may not be too concerned about the possible growth of mold in your Greenwich home; maybe you're too busy to address the situation now. However, the longer you wait to find out if your home has mold, the more mold will take over. It only takes mold twenty-four to forty-eight hours to grow from the dampness and if the mold spores are disturbed, they can invade other parts of your home! Having professional mold inspection service in Greenwich, CT by Connecticut Mold can put your mind at ease and help you reclaim your home.
Why Is it Important to Get Your House Inspected?
The most important reason to have your Greenwich home inspected for mold is to protect the health of your family. The introduction of excess mold in a home can cause physical issues like sore throats, runny noses, and headaches. In people with compromised health, mold can trigger respiratory ailments. For those with asthma or allergy issues, mold can cause elevated breathing problems or lead to asthma or allergy attacks. In addition to those with pre-disposed health issues, small children, elderly people, and pregnant women are also more susceptible to mold ailments. Why take the chance with your family's health? Enlist the help of Connecticut's premier mold specialists at Connecticut Mold. We can provide a comprehensive mold inspection and then determine a plan of action to eliminate the health threat posed by excess mold.
Indoor air quality is considered to be more polluted than outdoor air. Since we spend the majority of our time indoors, it's exceptionally important for that air to be clean and free of damaging mold spores. Unless you can actually see the mold in your home, you will need an inspection to know if it is lurking in your bathrooms, kitchen, basement, garage, or attic. Since mold can latch on to practically any type of material, it makes it more difficult to combat the longer it has a chance to grow.
In addition to health concerns, unregulated mold growth can actually affect the structural integrity of your Greenwich home. Mold infiltrates porous materials like wood, ceiling tiles, fabrics, and carpeting and can be hiding in plain sight. Once this mold has taken hold, it can start to eat away at these materials, causing extensive damage if not treated right away. This is why it is imperative to have a mold inspection if you suspect your home has been invaded by this nasty intruder. At Connecticut Mold, we specialize in finding that hidden mold behind drywall, under floors, in attic crawl spaces, and behind appliances.
During our thorough inspection of your home, our technicians will not only provide a visual inspection of the interior and exterior, but they will conduct air sample levels to determine how much mold is in the air you breathe. If these levels are elevated, you have hidden mold in your home that will need to be found. We will check your appliances, under cabinets, in the heating and air conditioning unit, and test moisture levels to find the area that is introducing the mold into your home. Our experts will assess any damage and provide you with recommendations including mold removal and any necessary remediation.
Connecticut Mold for Mold Inspection Service in Greenwich, CT
Our goal at Connecticut Mold is to give you peace of mind. We understand that you have many options when it comes to hiring a mold inspection company, but at Connecticut Mold, our expertise, customer service, and genuine concern set us apart from the other companies in town. Per Connecticut regulations, we are registered with the Department of Consumer Protection, (DCP), so you can rest assured that we are meeting all the guidelines for mold removal, mold assessment, mold testing, mold remediation and dehumidification for your Greenwich home.
To get started with exceptional mold inspection services Greenwich, CT depends on, give us a call today!