MOLD REMEDIATION IN MONROE
There are many reasons a home may grow mold—a natural disaster, a leaky pipe, or improper flashing around a chimney letting water in through the attic. Mold spores can be introduced to a home by pets, humans, or simply by opening the door, and when these spores mix with water, they create mold colonies. Mold multiplies rapidly and starts decaying materials in just a matter of days.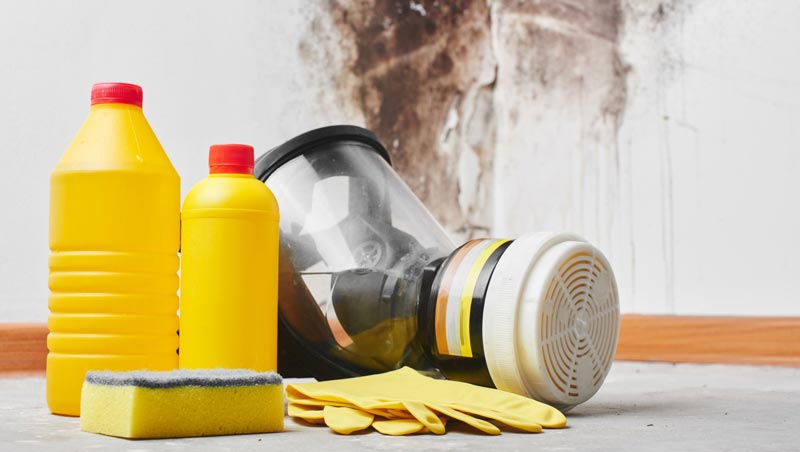 If the mold growth is not removed quickly, the host materials will deteriorate and have to be remediated. This process involves much more than simple removal; it consists in replacing decayed substances, like rotted drywall, decayed beams, and warped flooring. Unless you are a certified mold remediation contractor, it is recommended that you hire a reputable company to re-establish the integrity of the materials in your Monroe home. At Connecticut Mold, we specialize in all facets of mold work, including inspection, testing, removal, and remediation services. All our technicians are thoroughly trained to analyze, contain, remove, and, when necessary, replace materials that have been destroyed by mold. It is a delicate process and best left to the professionals!
The first step in any mold growth service is to find the water source feeding the mold colony and cut off its supply. If mold has moisture, it will find a place to grow. Even if you clean up an area previously tainted by mold, it will come back if the water continues to find its way inside, even if the site has been treated with antimicrobial chemicals and sealants. Stopping the water is the key to preventing mold growth! Since mold spores are an inherent part of our ecosystem, they will never disappear, but we can control their growth inside your home. You will find mold inside and outside your home, in the air, on dust, and on surfaces.
While this dust is microscopic and not harmful on its own, when it starts to colonize and grow is when the trouble begins. If you find mold in your Monroe home, it is vital to have it removed before it takes over and starts its destructive path. Note that certain mold colonies produce harmful mycotoxins—chemical secretions damaging to humans and animals. Over an extended time, these mycotoxins can create neurological disorders, lung and breathing issues, and in extreme cases, death. Unfortunately, you cannot see mycotoxins, and you cannot determine if you have strains of Stachybotrys or Chaetomium just by looking at them. Consider any mold in your home damaging that must be removed or remediated as soon as possible.
Mold Remediation
So once an area has been cleaned of mold, is it safe and livable again? It depends upon the type of material the mold colony has attached itself to and how much damage has been done. While the visible presence of mold can be removed and cleaned, it may have to be removed and replaced if the settlement has permeated a porous surface. For instance, if kitchen cabinets become water damaged due to a faucet leak, it may not be possible to dry the wood with an industrialized fan and then remove any mold build-up.
If the wood has become rotted or warped, it will have to be carefully removed, and new cabinets will need to be installed. The removal and replacement are delicate processes because, during this renovation, attached mold spores can be spewed into the air, only to find a new water source in your home to colonize. Decayed porous materials must be double bagged so as not to spread spores throughout the house when they are being removed.
Also, our technicians must be outfitted in PPE—personal protection equipment—to ensure their health and safety. These safeguards include full hazmat suits, goggles, masks, gloves, and booties to limit other rooms' cross-contamination and protect the technicians from inhaling or ingesting airborne mold spores. When replacement of materials is necessary, the process can be expected to last a minimum of a few days. Still, the length of the project is wholly contingent on the amount of damage to be repaired.
Our Service
One of the most important aspects of a mold remediation job is providing the homeowner with helpful recommendations so mold does not return. Our specialists take ample time to explain every step of our processes and to answer any questions you may have about mold growth, removal, and remediation of your Monroe home. We also follow up with testing and sampling several days after we finish to ensure the mold colony has not returned and to inspect for leaks and water breaches. Trust the experts at Connecticut Mold to provide comprehensive mold services, from testing and inspections to dehumidification, removal, and assessment.