Mold Remediation in Norwalk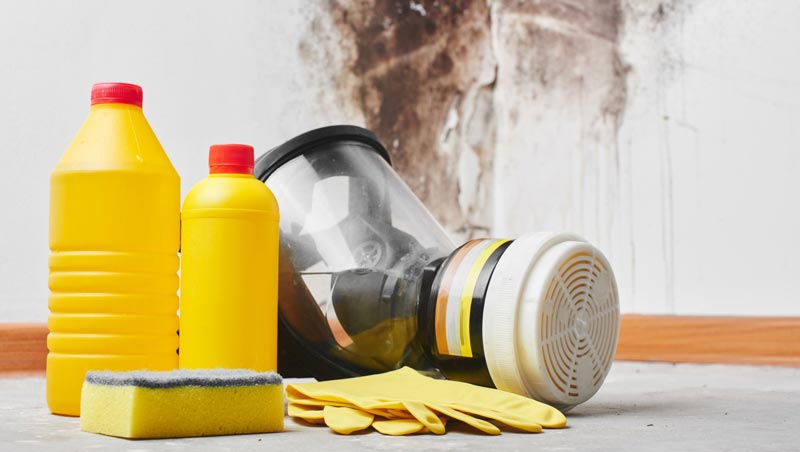 Has your home suffered recent water damage? Have you found a leak in your roof or pooling water behind your dishwasher? Water accumulation can cause mold, and when left unchecked, mold can eat away at the materials used to construct your home. Even after a thorough clean-up, mold can subtly move into your home or office, and you may not even know it's present! To save the structure from further deterioration, you will need mold remediation. At Connecticut Mold, we are experts at performing mold remediation for residential and commercial properties in Norwalk and the surrounding communities.
What is Mold Remediation?
When a property becomes too damaged from mold growth, it cannot be just removed and cleaned up; it must be repaired and replaced. For instance, since wood is a porous material, mold can permeate it and, much like a termite, slowly eat away at it. Mold can grow on many surfaces, many of which can be damaged beyond superficial cleaning. Frequently, furnishings, carpet, wood, drywall, and insulation are the perfect conduit for mold growth, especially when moisture is present. When the host substance becomes too damaged, the material must be replaced because cleaning the surface will no longer alleviate the problem. At Connecticut Mold, our specialized mold technicians can provide you with a seamless remediation, and inspection process and leave your home or office with no traces of damage!
Hire the Pros
Mold remediation is a dirty business that licensed mold remediation specialists should only perform. At Connecticut Mold, we take exceptional care to gently remove any substance rotted by the mold and ensure the mold spores do not become airborne. If airborne mold spores find another location in your home with a moisture source, the mold will start to grow there, starting a new pattern. When performing remediation services, our technicians will cordon off the infected area with contamination barriers to prevent cross-contamination of other home areas. The entrance to the site with mold contamination should be sealed off with plastic sheeting and any air ducts or other places where mold spores might escape.
High-efficiency particulate (HEPA) filter vacuum units and negative air machines are used to clean the air, and any destroyed items or materials are double bagged and removed. More oversized items are covered with polyethylene sheeting and duct-taped to ensure the mold spores do not escape. Safeguarding your health and the health of our technicians is our utmost responsibility and one we take very seriously at Connecticut Mold. Our technicians are outfitted in complete personal protective equipment (PPE), including disposable head coverings, goggles, masks, and hand and foot coverings to protect them from direct contact with mold spores. Goggles or a full-face respirator with a HEPA filter cartridge also protect the technician from inhaling mold spores, dust, and debris. Disposable gear ensures they do not track any mold that may be transported on clothes or shoes to other areas of your home.
Your Family
When determining the scope of the mold removal and remediation process, we always discuss your family's health and safety with you before we begin. If the project requires extensive debris removal and replacement, we may recommend that your family does not stay in the home while the work is being completed. Remediation can be noisy at times, but it can cause exacerbated health issues in small children, older adults, people with compromised immune systems, those with respiratory problems, and pregnant women. It is essential to know that remediation plans can change based on hidden amounts of mold and the damage it has caused, and the amount of debris caused by remediation. At Connecticut Mold, we will communicate each step in the process to avoid surprises.
Finishing the Job
Once the moldy debris has been removed, and the antimicrobial agent applied to surfaces to stop mold growth, our team will ensure your home is left pre-mold. We will tour the newly cleaned area and provide you with some tips to prevent a flare-up of new mold growth and answer any questions you may have. To dissuade mold from returning, you should:
Check your home often for any signs of leaks, condensation, or other signs of moisture, and immediately fix any trouble spots.
Ventilate your home to discourage superior humidity levels in the winter and dehumidify your home by removing moisture from the air inside in the summer months. Keep your home's relative humidity rate below 60 %.
Have your air conditioning and heating vents checked and cleaned so that mold does not build up and contaminate your home.
Check the perimeter of your home to ensure water buildup is not eroding your foundation or seeping into your home. Make sure you have proper drainage for rain and snow.
If you should have any questions about mold removal, mold assessment, mold testing, mold inspection, remediation and dehumidification services, contact the professionals at Connecticut Mold. We're here to help! Get your free evaluation today!