Mold Testing In Wilton
If you have stumbled upon a patch of mold in your Wilton home, don't panic. The experts at Connecticut Mold are trained mold professionals who can help you determine the next steps in your mold saga. Spotting mold growth is an obvious sign of moisture penetration, but the dank, musty smell associated with mold can be a clear giveaway that your home may have a mold growth problem. While seeing mold is an issue, the mold you can't see may be an even more significant complication. At Connecticut Mold, our technicians can conduct a thorough mold test to find any hidden mold in your home because not knowing what's behind your walls is even scarier than visual mold growth!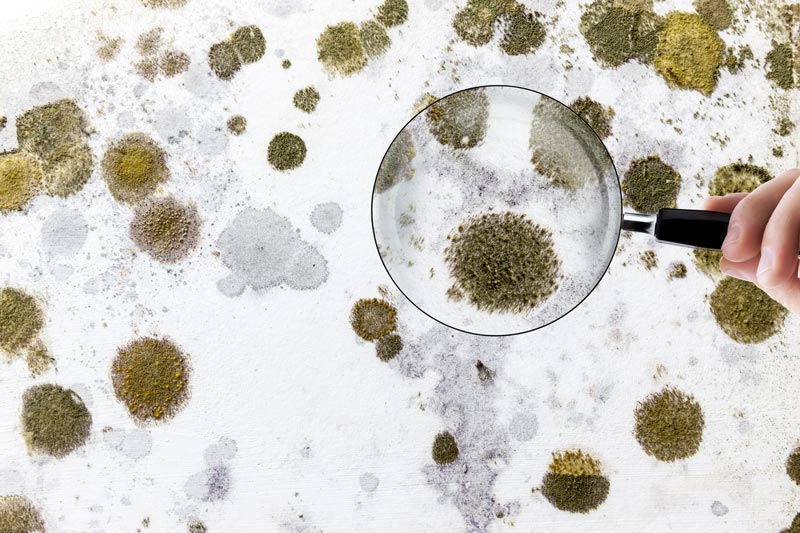 Since indoor air is considered dirtier than outdoor air, it is essential to know what's in the air your family is breathing. With our homes being closed up in winter and moist and hot in the summer, the air inside can become stagnant, and mold can grow in areas of moisture accumulation. Mold can be found in your heating and cooling unit, shooting spores into your home's air; mold can build up behind your washing machine, even growing on furniture, carpet, and fabrics.
While indoor mold is a part of nature, the amount of mold circulating or growing in your home can have detrimental effects, which is why it is so important to find it and remove it. Additionally, there are many mold variations, from the common, harmless Cladosporium to the toxic, black mold varieties of Chaetomium and Stachybotrys, and knowing which kind you have can set your mind at ease.
Mold and Illness 
Not everyone has a bad reaction to the various molds inside, but the allergens in certain molds can cause health issues in small children, older adults, and those with compromised immune systems. People with asthma and other respiratory ailments may experience heightened symptoms, including breathing issues and allergy attacks, while prolonged exposure can cause more severe consequences. If you suspect your Wilton home may have mold, it is imperative to have your home tested to protect your family's health.
If your home previously had mold removed, you will want to have a test performed to ensure it has not returned. While testing the collected mold samples is not required—if you have mold, you have mold—it may explain some otherwise unexplained health issues. Exposure to Chaetomium or Stachybotrys over an extended interval can lead to some severe ailments and, in rare cases, even death.
The qualified experts at Connecticut Mold can test the air and the surfaces of your home to determine if the amount of mold exceeds natural levels and if the types of mold are harmful. Ensuring your family's health is the most crucial reason to have a mold test completed by a professional.
Home Destruction
Not only can mold affect your health if left unchecked, but it can also slowly destroy your Wilton home. Mold flourishes in moisture areas, so condensation from your air conditioning unit, a leak in your roof, or a broken water line under your sink can attract the mold spores in the air, inviting them to colonize. While some of these spores may be innocuous, they could also be a mixture of the black mold variations. Once these molds have taken root, they methodically eat away at the material they have colonized.
Mold can grow on food, in dust or lint, on the paper of a book, or on the materials that make up your home, including drywall, wood, wallpaper, carpeting, fabric, and metal. Since mold multiplies, it is crucial to attack it as soon as possible to mitigate any damage. The longer it is left to grow, the more destruction it will cause, costing thousands in repairs to your Wilton home.
Professional Evaluation
Many stores offer home mold test kits; however, they can only provide limited information. These kits can detect the presence of mold in your Wilton home, but not the particular mold species nor the mold's hiding places. Our qualified technicians can produce all the answers you need to address your home's mold issue. We perform both air and surface mold assessments by collecting samples in various areas of your home to compare to each other and the outdoor mold samples.
Elevated levels indicate mold accumulation, and our technicians use the most advanced equipment to find any hidden mold sources. The process of finding these mold sources can disturb mold spores, launching them into the air to spread throughout your home. To protect other areas from contamination, we use protective sheeting to cordon off other rooms. At Connecticut Mold, we take every precaution to ensure your family's health and safety during our mold testing and inspection process.
To learn more about our professional services, contact us at Connecticut Mold. We are happy to help! Also, don't forget to ask about our additional mold services: dehumidification, mold assessment, mold remediation, mold removal and mold inspection in Wilton!