MOLD REMEDIATION IN TRUMBULL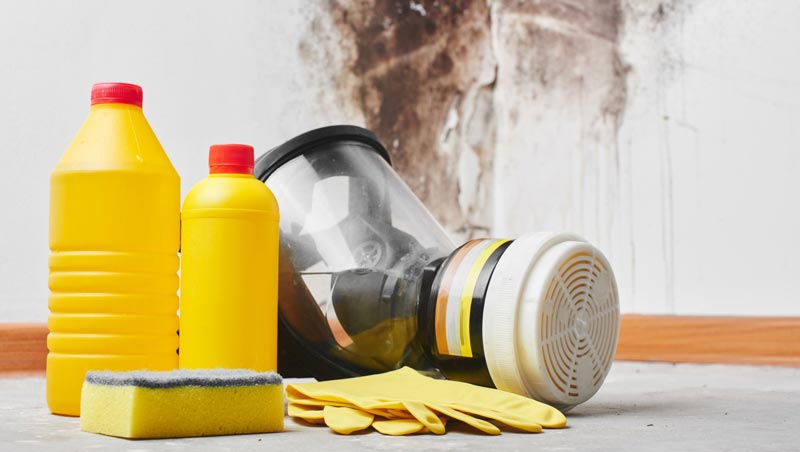 Unless you are a fungal expert, you might have never heard of Stachybotrys or Chaetomium, especially since they sound like something out of a science fiction novel. However, both are strains of black mold, which emits harmful mycotoxins into your home's air. If your Trumbull home has experienced water damage due to a leak or flood, these culprits may have resided behind your drywall, under your carpets, or underneath appliances. While all mold growth can cause structural damage, these types of black molds also cause major health concerns for those living in the home.
Mold is an allergen, so that some people may experience watery eyes, headaches, and other allergy-like symptoms. Black molds can cause even more dire consequences, including long-term cognitive issues, breathing ailments, and in rare instances, even death. Once you have found mold—any mold—in your Trumbull home, you need to have it removed so it cannot spread and cause undue harm. When left unattended, mold can cause health problems for the home's inhabitants, breaking down its structural integrity.
When materials have become too damaged due to mold growth, they cannot just be cleaned; often, they must be removed and replaced. Items like drywall, wood, flooring, fabrics, and insulation can become so destroyed by mold that certified specialists must professionally remediate these items. At Connecticut Mold, our experienced technicians can remove, disinfect, and remediate your home after a mold intrusion. As a leader in the mold industry, you can count on Connecticut Mold to provide outstanding remediation services to return your home to its pre-mold condition.
Remediation Services
The first step in any mold remediation service is finding the water source feeding the mold colony. But by cutting off the water source, you are cutting off the mold's lifeline and eliminating the chance of future mold growth. Our technicians are skilled in finding the water source by using specialized equipment like a moisture meter and then seeking out mold in hidden corners, under appliances, and behind walls. Once the water source—a leaky pipe, standing water, condensation from an air conditioning unit—has been fixed or eliminated, the professionals at Connecticut Mold will prep your home for removal and remediation. Your home is then prepared for the extensive project.
The mold-infected areas are cordoned off with plastic barriers to prevent lingering airborne mold from spreading to other home areas. To ensure your family's safety and that of our technicians, we equip our workers with full hazmat suits, booties, goggles, and masks, so they do not track mold throughout your home and do not ingest it. The scope of their work and the time allotted for the job are wholly dependent upon the amount of mold, where it is located, and how much material needs to be replaced. As you can tell, this is a process that licensed professionals best perform due to the hazardous nature of the mold and also the reconstruction of degraded materials.
The next step begins when our technicians clean any surfaces that do not need to be replaced with antimicrobial and antifungal agents and remove any debris. All trash is double-bagged, sealed, and taken from the property to limit cross-contamination of other rooms. Once the removal process is completed, the technicians will replace any substances ruined by the mold, including replacing wet, molded drywall, carpets, and ceilings. If porous building materials have been breached by mold, removing and cleaning the moldy area will not be enough. Unless caught quickly, mold colonies penetrate porous substances, and rot and decay will start. In some instances, you may not know you have mold until the damage is done, and remediation is the only possible solution to salvage the building's structural integrity.
Mold Spores
It is essential to know that some mold will be left behind even after a home has been cleaned and remediated. Residual mold is not unusual; mold is in the very air we breathe, and it is naturally found all around us. However, the problem arises when the airborne mold meets a moisture source inside the home, and the colony begins to grow. While all homes have mold, not all homes have mold growth.
When the Connecticut Mold technicians have completed their removal and remediation steps, they will review the recommendations for keeping your home free of mold growth to ensure it stays in the former category. We will be available to answer any questions you may have and will schedule a follow-up inspection to ensure the mold has not returned. You can count on Connecticut Mold to provide quality, affordable mold services in Trumbull. When experience and reputation matter, you want the experts at Connecticut Mold!
Also, should you have any questions about mold removal, mold assessment, mold inspection, mold testing, and dehumidification services, contact the professionals at Connecticut Mold. We're here to help! Get your free evaluation today!