Mold Testing
You venture down into your basement and notice a musty smell. Perhaps you just noticed some greenish spots above your shower in the bathroom or a fuzzy substance underneath your kitchen sink. Chances are, you have mold growth in your Darien home.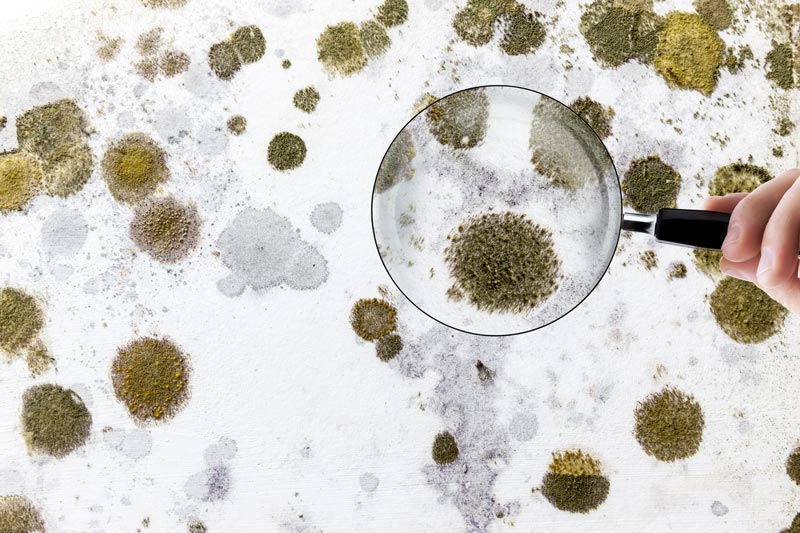 Dangers
So why is having mold in your home a big deal? There are thousands of diverse mold varieties, ranging from innocuous to toxic, so it is important to determine the strain of mold, the amount accumulated, and its source. While unattended mold growth can be unsightly and unsettling, it can also be destructive. Mold can attach itself to wallpaper, flooring, insulation, and air conditioning units– mold can be hiding almost anywhere. This hidden mold can break down the structure of the material, causing a great deal of damage.
More importantly, however, is the effect mold can have on your health. While many people do not have a reaction to mold, others can suffer allergic reactions. Mold can cause runny, watery eyes, a constant cough, headaches, stuffiness, or nasal discharge. Other symptoms can include rashes, digestive issues, and fatigue. People with asthma or respiratory issues may find it difficult to breathe, and the ingestion of mold spores may lead to pneumonia and other lung-related ailments. If you suspect you have mold in your Darien home, it is now the time to have it evaluated!
Mold Testing
You can run down to the local hardware store and pick up a mold testing kit, but it may not be wholly effective. A do-it-yourself-kit may determine there is mold, but the questions don't stop there. What type of mold did you find? Where is it lurking in your home? What is the source of mold growth? And most importantly, now that you've found higher levels of mold in your home, what do you do now to remove it? Instead of administering an over-the-counter mold test yourself, contact the experts at Connecticut Mold to complete a thorough mold test on your Darien home. Our certified mold technicians will not only use revolutionary equipment to evaluate various areas of your home for mold, but they can determine the type of mold, its toxicity level, and where it might be hiding in your home.
Mold could result from a split pipe in your bathroom, an accumulation of rainwater inside your home due to improper flashing around your chimney, or possibly from a hidden leak behind your dishwasher. Whatever the source, mold loves to grow in damp, dark spots, and it can take over quickly, so it is extremely important to locate the source and stop the accumulation of mold in its tracks. Our technicians at Connecticut Mold can help you locate the issue and expertly clean up any mold build-up before it affects your health and your home's structure.
Professional Assessment
At Connecticut Mold, we utilize the most advanced equipment to assess your Darien home for mold exposure. First, our certified mold technicians will visually inspect your home for areas of mold growth, most notably in spaces where water may infiltrate, like bathrooms, kitchens, laundry rooms, basements, and attics. Air samples are taken and compared to outside mold air samples to determine if your home's reading is higher than normal.
These air samples are taken from separate locations in your home to get a varied reading. Samples are also taken from surfaces like countertops, furniture, and other stationary surfaces. These samples are taken to the lab to measure mold levels, the types of mold varieties found, and their toxicity. Once we have completed a full assessment of your home, the levels of mold, and the source of the mold, our Connecticut Mold technicians will make some recommendations regarding removal and possible remediation.
Choosing Connecticut Mold
Selecting a company to perform your home's mold assessment is a major decision. At Connecticut Mold, we are the premier mold testing company in Darien and surrounding areas. With years of experience coupled with the most advanced technology and equipment, the certified technicians at Connecticut Mold can complete your mold testing, provide you with solid results, and offer proactive solutions tailored to your home's unique needs. We take the time to completely explore your home for all areas of hidden mold and to help you eliminate the sources of mold accumulation. Our technicians will answer your questions regarding the mold test results and provide the next phase, so you are informed at every step of the process.
Once you suspect your Darien home has mold, it is important to invest in professional mold testing as soon as possible. Don't attempt to discover the mold on your own; you could potentially be releasing mold spores into your home's air. Instead, enlist the help of the experts at Connecticut Mold, and feel confident that the air inside your home is clean and fresh.
Got questions for us? Call us or schedule a free consultation to learn more about our mold services like mold removal, mold assessment, mold inspection, mold remediation and dehumidification in Darien!