Mold Removal In Wilton
Unless you are an expert in molds and fungi, you may have never heard the names Chaetomium or Stachybortrys. Both are harmful toxic molds that can invade your Wilton home, often without your knowledge! These "black mold" classifications secrete mycotoxins, a chemical product that can cause disease and even death to humans and animals. Finding a black mold species in your home is very serious, and the colony of mold should be removed as soon as possible to prevent health hazards to your family.
While you may want to eradicate the mold yourself, this delicate, often hazardous job is best left to the professionals. At Connecticut Mold, we are professionally trained to assess and remove any toxic molds from your Wilton home by utilizing stringent guidelines designed to protect your health and home. If you believe mold has infiltrated your family's home, the time to act is now!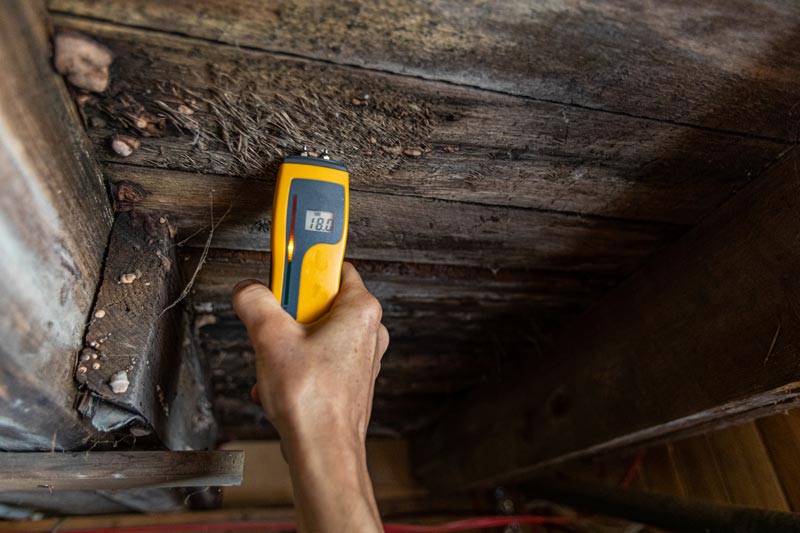 Mold is a sneaky substance—it can penetrate your home through your air conditioning and heating unit, windows and doors, and even as a passenger on your clothing! Once this mold has been introduced to a moisture source, it grows, often in places you might not suspect. If your home has experienced a flood or water damage, this is an invitation for mold to flourish. Small, hidden leaks behind sinks, under counters, behind walls, and in your attic or basement can contribute to hidden mold growth, which can quickly expand and damage your property. Hence, only through thorough mold inspection and testing can we know the true source of mold growth.
Worse than the damage it can cause is the health risks it creates for those living in the house. Mold is an allergen, so it can cause allergy-like symptoms that you may attribute to pollen, dander, or other common allergy triggers. These symptoms can include runny noses, watery eyes, coughing, and headaches. When black molds release mycotoxins, the effects can be even more severe.
Over a prolonged period, exposure to mycotoxins can cause respiratory issues, immune deficiency, cancer, and in extreme cases, even death. When mold is found in your house, you may not know which type of mold is growing, so it is best to have it removed by a professional mold removal company. At Connecticut Mold, we have the years of experience and expertise you can count on to ensure your home is safe and free of toxic mold growth.
Professional Mold Removal
While no company can guarantee that your home will be completely free of mold, we can remove the mold growing on materials in your Wilton home. Mold is a part of our natural ecosystem, so it will always be present in the air we breathe, both inside and outside. When we close up our homes for the winter, we live the air pushed through our heating duct system, which can be riddled with mold spores. Moisture is introduced through rain and snow, and mold grows inside. The relative humidity creates an ideal place for mold to grow inside during the summer, so it is vital to have your home checked for mold growth and moisture spots.
If the source of the moisture is not addressed, the mold will continue to return, and the removal process will start all over again. At Connecticut Mold, we take every precaution when removing mold from your Wilton home. Mold spores are quickly jettisoned into the air when they are disturbed, so we set up protective barriers to ensure the mold does not travel to other areas of your home. Our technicians are protected from ingesting spores into their lungs or absorbing mold into their skin by full-body gear, including goggles, facemasks, gloves, boots, and bodysuits.
We use the most advanced HEPA air scrubbers, industrial drying fans, HEPA-filtered vacuum cleaners and then treat the area with the most effective antimicrobial chemicals to kill the mold spores; any materials or damaged items that must be removed are double-bagged and carefully extracted from your home, and all areas are thoroughly cleaned.
The process can take several days or weeks, contingent upon the amount of mold your home has located and the amount of damage incurred. At Connecticut Mold, we will set the expectation for you before we begin the job, so you are informed of every process step. Once the removal project is completed, we will provide you with a detailed plan and mold assessment to keep the mold at bay.
Your Home
Your home is your sanctuary and quite possibly your most significant financial investment. If you conclude that mold is growing in your home, you need to start the removal process immediately. Mold multiplies quickly and can begin colonizing in as little as 48 to 72 hours. Don't take on this arduous task yourself; trust the certified mold experts at Connecticut Mold to effectively remove the mold from your home. You'll sleep peacefully in your Wilton home, knowing the air you're breathing is free of toxic molds!
Call us for further details or schedule an appointment! Also, don't forget to ask about our additional mold services: dehumidification, mold assessment, mold remediation, mold testing and mold inspection in Wilton!