MOLD INSPECTION IN MONROE
We get it—life is busy. A lot can get lost in the shuffle with work, family obligations, friends, events, and everyday tasks. But in all the hustle and bustle, are you neglecting your home? Even in the cleanest, most well-maintained homes, mold can grow, infiltrate your air conditioning and heating unit, or grow behind your drywall. In all the daily routines, you may not have even considered that your Monroe home may be infested with nasty mold growth. You may feel like you don't have the time or the expertise to give your home an extensive once-over or even know where to start to look for mold build-up. Save yourself the time and the hassle, and call the experts at Connecticut Mold! We can provide a thorough mold inspection for your home or business and take one more item off your to-do list!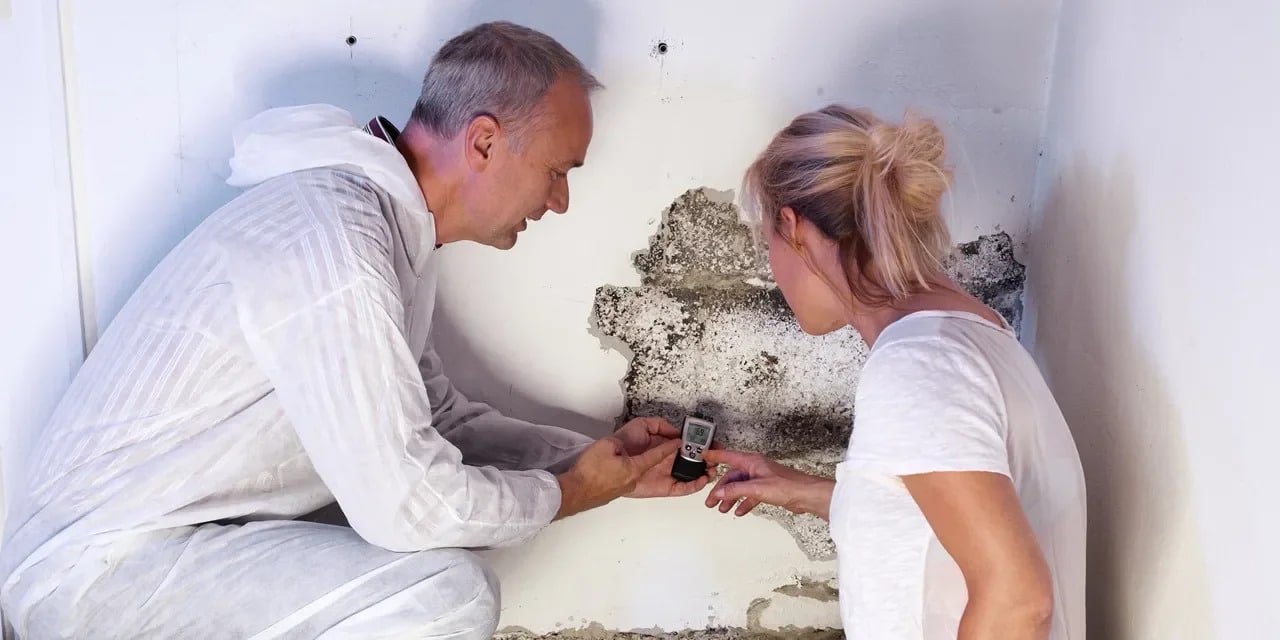 Possibly you have already found mold in your home and are unsure what kind of mold you have or what to do about it. You may feel like a quick scrub with some bleach should take care of it, but will you get it all? Will it kill it outright? What about the mold you CAN'T see? It's true; mold is a stealthy character that likes to hide in all sorts of cracks and crevices. Your Monroe home might have a mold infestation, and you might not even know about it! At Connecticut Mold, our certified mold technicians have the expertise and equipment to search out that elusive growth and put a stop to it. Since mold is floating around in the air, removing it from your home is impossible. However, by fixing leaks, condensation, and accumulated water pools, you can cut off the moisture source for the mold to colonize. Once mold finds moisture and starts to attach itself to a material, it begins to cause destruction. How can you stop mold you can't even see? That's where our technicians step in to help.
Professional Inspection
Whether your home is brand new construction on a bit on the older side, our technicians can complete a comprehensive inspection using state-of-the-art equipment and techniques to track down mold in your Monroe home. First, we target areas that might be considered hot spots—anyplace in your home where there may be a water source, like a bathroom, kitchen, or laundry room. Other areas of the house that may have water breaches are also searched—like basements, attics, and garages. Roofs and chimneys are checked for cracks, leaks, or improper flashing, which may let rainwater, hail, and snow into your home. Areas outside your home are inspected for broken sprinklers or eroded soil that can cause water build-up to penetrate your home's foundation. Each room is thoroughly inspected, and our technicians will share any findings with you regarding the next steps.
Is your home really at risk for mold infestation? The blanket answer is yes—all homes are at risk. Mold inspections are generally not included in home inspections, so mold is often missed. Older homes often have nooks and cracks where mold likes to hide and grow. Since mold is an integral part of our ecosystem, it is already in the air around us and on the surfaces in our homes. This mold can become colonized whenever it mixes with a water source. Outdoor mold can latch on to your house's fascia, and indoor mold can adhere to the drywall, windowsills, or under cabinets. A comprehensive mold inspection by an established expert can save you from headaches later!
Can't It Wait?
Unfortunately, a mold inspection is NOT something you should put off until tomorrow, especially if you have seen mold or suspect it is growing in your home. Mold can cause structural damage to your home, often to the point of a complete restoration of materials. Since mold can grow and colonize in as little as 72 hours, catching it early is vital. Even more devastating is the effect mold can have on your health. Mold is an allergen, so its presence can cause allergic reactions like watery eyes, runny noses, and notable coughs. Certain strains of mold, like Stachybotrys and Chaetomium, emit mycotoxins, harmful chemicals that can cause adverse effects in humans and animals. These types of molds, often called "black mold," are dangerous. Over a prolonged period, these mycotoxins have been linked to respiratory issues, certain cancers, neurological disorders, and in extreme cases, death. Having your home inspected and the mold analyzed can help protect your home and your loved ones' health.
Connecticut Mold
At Connecticut Mold, we take mold very seriously; it is all we do. Contact us immediately to schedule an appointment if you need a mold inspection. Our helpful staff and knowledgeable technicians will help you through the process and offer tips, suggestions, and solutions to handle your home's mold growth. Don't delay; call Connecticut Mold today! We also offer mold removal, mold assessment, mold testing, mold remediation and dehumidification services in Monroe!