What is Mold?
You notice the fan in your bathroom stopped working, but you're just too busy to fix it. After a few weeks, you notice the appearance of some colored spots around your shower and the windowsill, but they don't seem bothersome. After all the steamy showers coupled with the broken bathroom fan, the perfect scenario for mold growth has formed. It happened so subtly, you may not have noticed it at first, but now, the musty smell and the spots have permeated your bathroom, and there's no doubt it's mold. You wipe down the areas where some of the growth has formed, but you notice the windowsill and some of the wood has started to deteriorate. While you may have removed the mold from the non-porous materials like the glass and tile, the wood, drywall, and flooring may be harboring mold you can't see, and it is slowly eating away at these areas. After investigation, you notice there's rot and damage; now what do you do?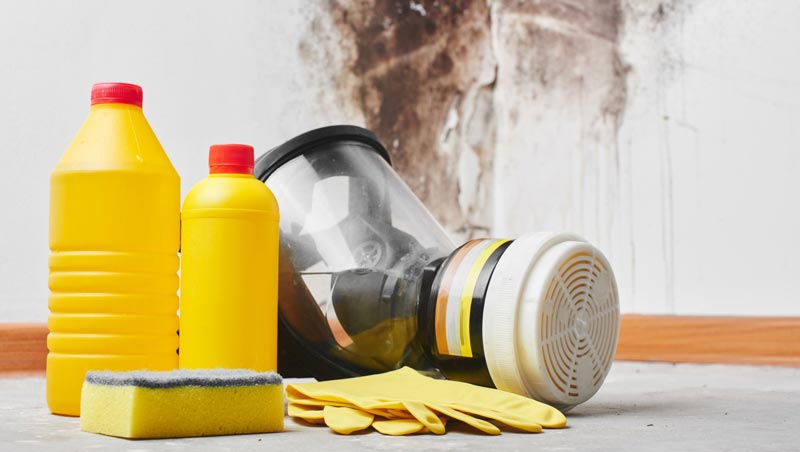 Even if this situation has never happened to you, it easily could; the wet, dark winters of Connecticut are the perfect atmosphere for mold to grow. If you find mold in your house and you try to remove it, you may be stirring up mold spores to float around your home and land in another moist spot. If left alone, the mold can latch onto porous materials like wood, fabric, and flooring, causing substantial damage. At Connecticut Mold, our job is to help you with your mold problem, preferably before it turns into a structural problem. If, however, the damage is done, it is vitally important to have mold remediation completed by the experts at Connecticut Mold.
You may have heard the terms "mold removal" and "mold remediation" used interchangeably. While the end result is the same, there are some differences. Mold removal involves the elimination of the mold from non-porous materials using cleaning procedures and then cleaning the air using specialized machinery. Remediation involves removing the damaged material after the cleaning. Oftentimes, the mold will chew through the wood, drywall, flooring, or fabric to the point it has to be replaced. Proper cleaning is not enough; the material is too damaged and must be exchanged for new material. Mold remediation has to be completed by professionals and at Connecticut Mold, we have the experience and expertise to repair your home in no time.
How is Mold Remediation Done?
Protective gear must be worn when removing and remediating the mold to safeguard the technicians performing the work. At Connecticut Mold, our licensed professionals will wear N-95 respirator masks and goggles to prevent mold ingestion through the nose or eyes. Rubber gloves and full body suits are used as protection, as well. Mold spores can be introduced into the air when they are disturbed, so in addition to the precautionary clothing, plastic sheeting is set up to protect other areas of the home from contamination.
Since mold removal is a dirty job, and mold remediation is extraordinarily complex, it is best to have the experts at Connecticut Mold undertake these tasks. Even the Environmental Protection Agency (EPA) suggests that you hire professionals if the area of the mold covers more than ten square feet or it has infiltrated your HVAC system, contaminating your indoor air. To accurately remove the mold and assess the damage to your home, our technicians will determine all the areas infected with mold. Any standing water is removed with water vacs. Then, an assessment is completed to find any hidden mold behind walls or under floors. All sources of humidity or water leaks are found and addressed, since the mold will just grow back if the moisture areas are not fixed.
Once the mold removal has begun, protective plastic sheets are attached to the walls and used to cover any furnishings, air conditioning and heating vents, or other personal items so that they do not get contaminated with mold spores. Visible mold is cleaned away and damaged material is bagged and removed, so mold is not allowed to travel. It is especially important that any moldy materials are taken away in a sealed plastic bag to ensure the mold spores are contained. Next, the air is scrubbed using HEPA air cleaners and blighted matter is replaced. At times, there will be some moldy pieces that cannot be remediated so instead, an encapsulating agent is used to seal the mold and stop it from spreading. The antimicrobial agent is painted on and left to dry. Lastly, Connecticut Mold technicians will schedule a follow up appointment to ensure the mold growth has been terminated and that mold levels in the home have been returned to a normal, livable level.
Mold Remediation Service Near You!
If you have found mold in your home, or suspect you have mold growing, contact Connecticut Mold for a proper mold inspection. We will answer your questions and help to determine the correct course of action regarding mold removal and remediation. At Connecticut Mold, we manage it all, so you don't have to! Additionally, don't hesitate to ask about mold inspection, mold testing, mold assessment and dehumidification services in Connecticut!