Mold Inspection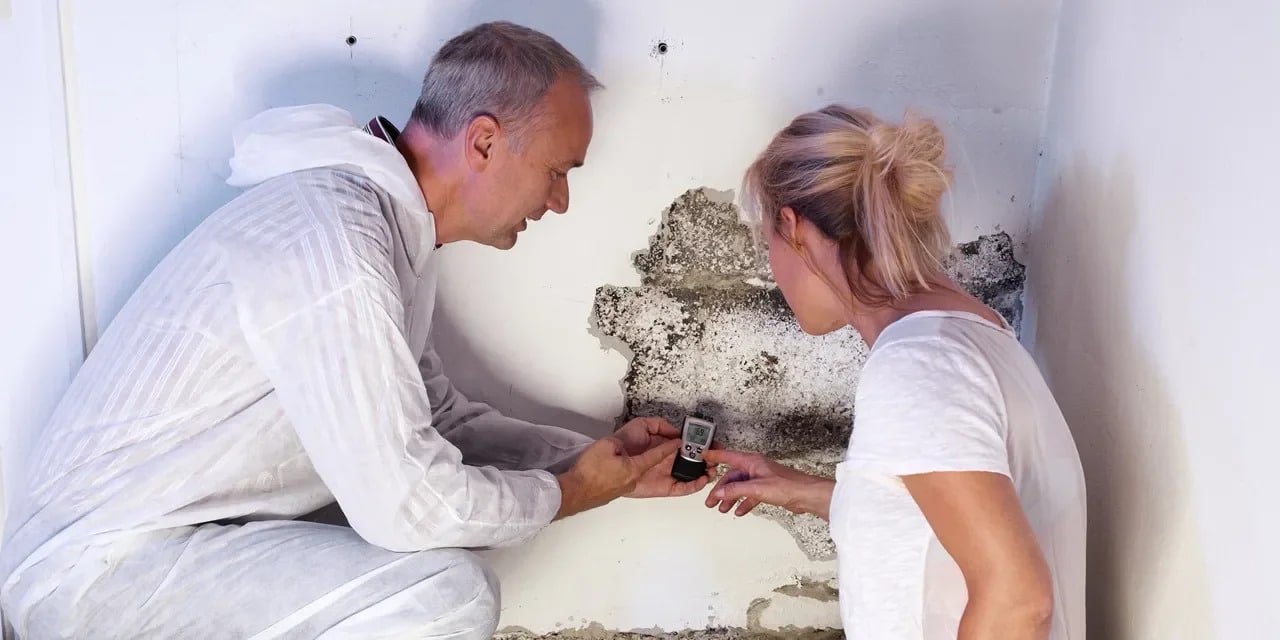 Air Quality
Unless you have breathing issues or an underlying health condition, you may never consider the quality of the air you breathe. Even with pollution, chemicals, and other airborne contaminants floating around outside, the air inside your Darien home can even be more toxic than the air outdoors! Poor ventilation, the use of household chemicals, and the build-up of dust, pollen, and mold can make your indoor air dirty and potentially hazardous. While "airing out" your home may help dissipate the polluted air, the mold that is in every home may have reached unhealthy levels, and once it has taken hold, it needs to be addressed to improve your home's air quality.
Mold Levels
Since every home has various levels of mold growth, how do you know how much mold is too much mold? Mold has thousands of distinct types, so how do you know which kind of mold is growing? Can it be potentially harmful to you, your pets, and your family? The way to determine if your home has mold growth is to have a certified mold professional complete a comprehensive inspection. Connecticut Mold is an established mold inspection company known for our customer service, expert technicians, and our dedication to providing you with a thorough assessment of the mold in your home. We're committed to providing you the peace of mind you deserve by giving you the explanations you need.
Inspection
You may be asking yourself—if every house has mold, why do I need an inspection? Mold can grow at a rapid pace, and when left unattended, it can cause health problems for those breathing in the mold and cause unmitigated damage to your home's structure, costing you expensive repairs in the long run. While you may suspect you have a mold issue in your home due to a musty smell or a suspected water leak, you won't know for sure if mold is hiding unless you have a Connecticut Mold professional inspection to give you clear answers.
Finding mold means there's an underlying issue, pointing to moisture and humidity. It may be condensation on a windowsill, a leak under a sink, or a dripping pipe in your laundry room. Maybe your roof has suffered some unknown damage, and water has infiltrated your trusses or insulation, causing water damage and mold build-up. Possibly your basement flooded due to excess rain, and now you're left with a musty stench from mold. Whatever the situation, you may never even know the hidden mold is there unless you have a thorough inspection by a certified, professional company like Connecticut Mold.
Ingesting mold can cause allergic reactions in many people, including headaches, coughs, and a runny nose. These symptoms can be elevated, driving respiratory issues and breathing conditions for some. In addition to the potential health hazards, mold can present, the other pressing issue that can be discovered during a mold inspection has to do with your home's very construction. Mold can quickly grow on a variety of materials and can damage or destroy them. Our certified mold technicians utilize industry-tested equipment, including a specialized Moisture Meter, a particle scanner, and an infrared camera to detect moisture build-up that may not be visible to the eye and that can be causing that expensive damage.
While you can purchase a mold kit from local hardware or home improvement store, the test may not be entirely accurate and may skew your results. A mold kit can determine the accumulation of mold on a surface but not airborne mold, and it cannot select the type of mold that is present. While some mold specimens are non-toxic, there are others that can cause serious health issues. A certified mold inspector can save you the guesswork, give you conclusive results, and, more importantly, provide you with specific solutions to your situation to prevent the mold's return. In some instances, a mold removal procedure may alleviate your problem; a mold remediation process may be necessary for more extensive issues.
New Home Inspection
Did you just purchase a new home in Darien? If so, you may feel like you are protected from a mold infestation, but that may not be the case! A brand-new home may pass a home inspection because mold is not a factor in a new home inspection, so it can easily be missed. Enlisting the services of Connecticut Mold to complete a mold assessment can alleviate any questions and ensure your home does not have any issues.
Trust the experts at Connecticut Mold, Darien's leader in residential mold inspection. Our qualified personnel can not only perform a complete assessment of your home from top to bottom, but we can also map out a comprehensive plan tailored towards your Darien home and your unique situation. At Connecticut Mold, we're here to help! Additionally, we also offer mold services like mold removal, mold assessment, mold testing, mold remediation and dehumidification in Darien.