We've all seen those houses on TV that have been abandoned and left to rot; the one thing they all seem to have in common is an overabundance of mold. The mold permeates every substance it can, from wood beams and rafters to ceiling tiles and flooring, to glass and fabrics. Once you have detected mold in your Greenwich home, or you have had a mold assessment and have been told that the airborne mold levels are high, you will need the help of the professionals at Connecticut Mold.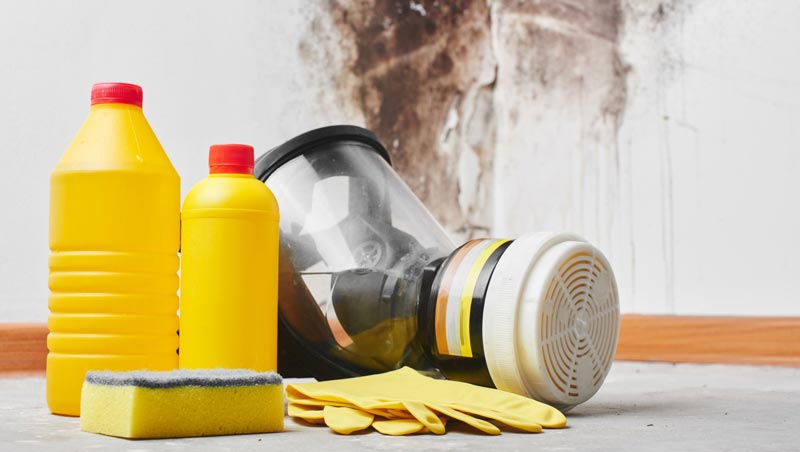 When you determine it is indeed mold, that means there's problems. If you can see the mold, just know there is additional mold that you can't see, secretly hiding and causing damage. If left alone, mold will not only multiply and continue to spread, but it will also start to eat away at the building materials of your home. This can cause structural issues and equal big money if not addressed quickly. Thankfully, this is not a job you need to tackle yourself; the experienced professionals at Connecticut Mold can take the reins and put your mind at ease. Choose us for expert mold removal and remediation in Greenwich.
While there are many problems associated with having mold in your Greenwich home, one of the most daunting is the damage it causes. When mold is found on the outside of your home, it can erode your home's foundation, or chew away at siding. Once found indoors, it can grow behind drywall, under carpets and other flooring, and even attach itself to the inside of your heating and cooling units. At Connecticut Mold, we offer a process called mold remediation where we assess the damage, address the water or moisture issue, and replace any damaged or destroyed materials throughout the house.
You may consider tackling the job yourself or enlisting the help of an online repair person to remediate your Greenwich home, but this is a job that should be left to the experts at Connecticut Mold. Once mold is disturbed, the spores will become airborne and will attach to new areas of your home, causing the problem to perpetuate. Additionally, ingesting mold can cause allergic reactions, respiratory issues, and prolonged health problems, especially in children and elderly adults. Trust the professionally trained technicians from Connecticut Mold to oversee the remediation process and all the details.
It's important to have porous materials professionally removed and replaced to hinder new growth and to discourage the spores from landing somewhere new only to grow again. If you find mold on a mattress or other soft surface, it will need to be discarded because you can never be certain that all the mold has been removed. Mold infected drywall, carpeting, curtains, ceiling tiles, and insulation must also be removed because the microscopic mold spores remain, only to flourish and grow again. While it may seem easy to just toss out the infected materials, doing so could cause health issues and the spread of the mold spores. At Connecticut Mold, we remediate the necessary areas while utilizing the most advanced equipment, such as HEPA filter air scrubbers, and our technicians wear specialized gear, plastic gloves and masks for their protection. If the mold is embedded in your HVAC unit, chemical biocides, ultraviolet lamps, and ionized air purifiers are options we use. If the mold is situated in just part of your home, that area is sectioned off with industrial plastic sheeting. Damaged materials are removed in sealed plastic bags to protect the other parts of your home from new mold growth. If the moldy material cannot be removed, a special antimicrobial solution is applied to the area, to kill and encapsulate the mold. This way the mold cannot move, and it cannot continue to destroy the material. Once all the destroyed material has been removed, and replaced, or encapsulated, air samples are taken to see if the mold levels have returned to a normal, livable state. Our technicians will follow up over the course of a few days to ensure your home has been restored to a clean, inhabitable condition.
How can you avoid mold in your Greenwich home? Sometimes, you can't. A natural disaster like a flood or an unknown leak in your roof can cause damage and mold growth. However, knowing that moisture is the conduit for mold growth can help you keep watch on those areas of your home that are prone to mold, like dark basements, attic crawl spaces, and unventilated bathrooms or kitchens. The combination of a bit of moisture mixed with high humidity will result in a perfect environment for mold to take control. You may believe that mold won't grow in the winter, or that its growth will slow down, but the mixture of cold, winter weather and condensation like snow and rain coupled with an indoor heater is a perfect environment for mold growth, just as a hot, humid summer paired with too much air conditioning can lead to excess condensation, causing mold. Whether it's wet winter weather or hot, humid summer weather, Connecticut Mold is your answer for mold control!
Feel free to call us for mold removal, mold assessment, mold testing, mold inspection, and dehumidification services in Greenwich!