Schedule a Quality Mold Inspection Service in Darien, CT or a Neighboring Area
Snow, rain, and ice can cause dampness in your home, and that can create mold. While obviously unsightly, mold can also cause some health effects, especially in elderly people, children, and pregnant women. Individuals with COPD, asthma, weakened immune systems, and mold allergies can also suffer health risks when they ingest mold spores. Mold exposure can cause red, agitated eyes, a runny nose, sore throat, irritated lungs, and skin rashes, to name a few symptoms. Why take the risk with your family's health? If you believe your home may have been invaded by mold, the first step should be to have a Mold Inspection by a certified expert from Connecticut Mold. At Connecticut Mold, we pride ourselves on thoroughly examining your home for invasive mold build-up. Not only will we provide a complete visual inspection, but also comprehensive mold testing to find spores that may be lurking behind your drywall and in dark, moist places.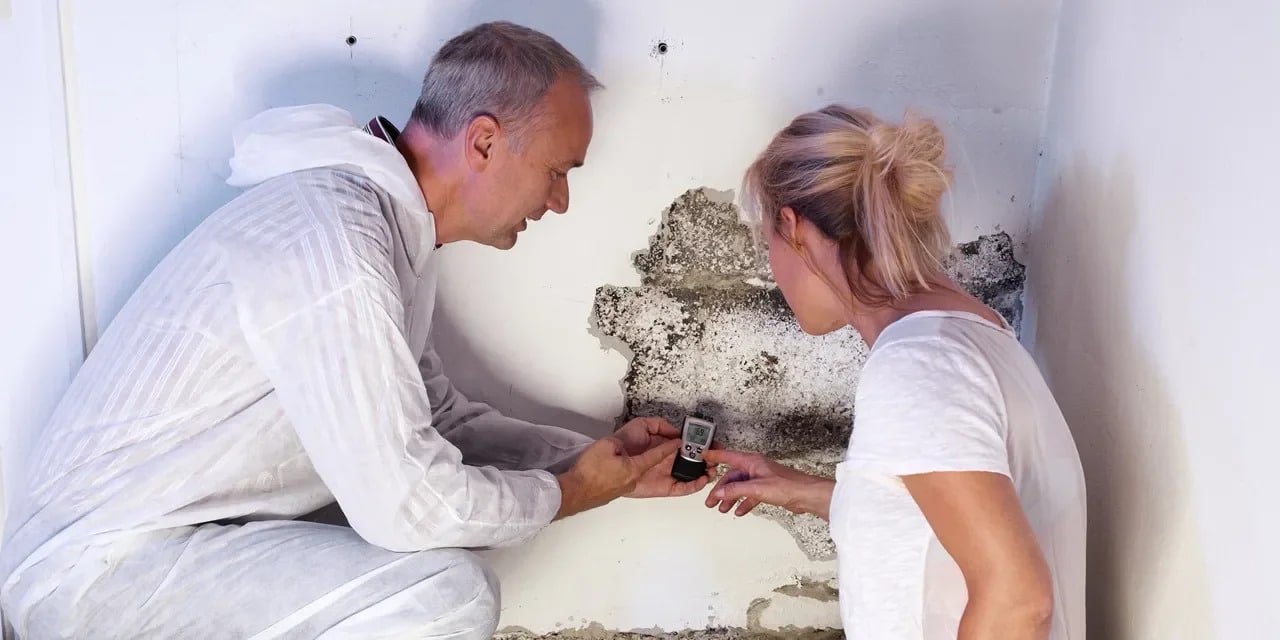 What Causes Mold to Grow?
Winter weather isn't the only element that can contribute to mold in your home; even a small water leak can wreak havoc over time. While keeping your Connecticut home free from mold spores may not even be something you have considered, it is an important health consideration for your family. If your Connecticut home has experienced a flood, a broken pipe, or even a slow water leak, your home may have mold and you may not even know it! We will. That's when the experts at Connecticut Mold will perform a point-by-point inspection, and keep you informed every step of the way.
People spend their time primarily indoors, where air quality levels can affect your family's overall health. According to the US Consumer Product Safety Commission, the indoor air we ingest can be one thousand times more polluted than outdoor air and the presence of mold in your home contributes to that poor air quality. Coupled with minimal ventilation, the indoor air quality suffers and since we breathe indoor air more often than outdoor air, inspecting your home for mold can help reduce the particulates in the air.
How Is Our Mold Inspection Service in Darien, CT Done?
You may not see the mold, but you can't mistake that musty, dank smell. By enlisting the help of the specialists at Connecticut Mold, you can put your mind at ease. The extensive inspection by Connecticut Mold is a top-to-bottom job, encompassing all at-risk areas of your home. Subtle roof leaks can result in mold in your attic, under-counter leaks in your bathroom and kitchen can lead to mold build-up, and condensation from doors and windows can cause mold around sills and door jams. In addition to a visual inspection, we will take surface and air samples, as well as examining the air conditioner and heating units. The experts at Connecticut Mold will inspect each area, from attic crawl spaces to expansive basements, and test for moisture levels in all areas, called moisture mapping, which can determine hidden spots for mold growth. This mapping procedure includes investigating doors that lead to the outdoors, as well as windows, vents, plumbing fixtures and lines. Mold can grow on any surface where moisture is present, including carpets, drywall, wood, tile, and paint, to name a few, so a thorough examination by a qualified professional can give you peace of mind.
You may have just purchased a home, but even a regular home inspection doesn't guarantee the home is free of mold. A regular home inspection isn't always going to uncover pesky mold patches; new home inspectors are not required by the Department of Consumer Protection to check for environmental hazards, including the presence of mold. When purchasing a new home in Connecticut, it's imperative to have a certified mold inspection completed by the professional team at Connecticut Mold.
If you leave mold alone long enough, you may experience physical symptoms, but you will also be risking the integrity of your home's structure. Unattended mold will multiply and grow, and can rot your drywall, stain your walls, and even eat away at floor or ceiling joists, causing major structural damage. Having a mold inspection of your Connecticut home can circumvent potentially expensive destruction. When you trust Connecticut Mold with your inspection, we will answer all your questions and keep you informed regarding the status of your home's mold situation.
Why Choose Us?
You may have varied options when considering a company for your mold inspection service in Darien, CT or a surrounding area. When you select Connecticut Mold to complete your home's inspection, you are choosing the area's mold authorities. Per Connecticut regulations, we are registered with the Department of Consumer Protection, (DCP), so you can rest assured that we are meeting all the guidelines for mold inspection, testing, removal, and remediation. Connecticut Mold is licensed, insured, professional, and certified. Trust us for your comprehensive mold inspection service in Darien, CT.
To get started with exceptional mold inspection services Darien, CT and neighboring areas depend on, give us a call today!