Mold Removal in New Canaan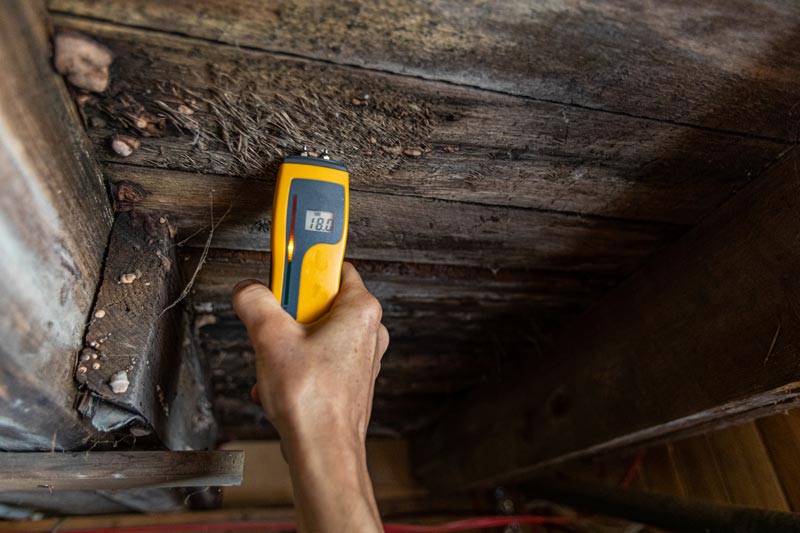 You've had the unfortunate experience of finding mold in your New Canaan home; now, what do you do? While you may be concerned that a bit of mold is a minor nuisance, it can cause significant damage to your home and your health. When you find mold in your home, the time to act is now! If you choose to leave the mold alone, it will multiply and colonize, causing destruction and health hazards. Cleaning the mold might help, but there's no guarantee that you will get it all, and you may make yourself sick in the process. The answer is a professional mold removal service by Connecticut Mold, one of New Canaan's most respected mold removal businesses.
A Little Mold
Your home is more than a sound investment; it's your sanctuary, your retreat from a hard day. It's a place where your children grow up, and you make memories to last a lifetime. You would probably do anything to protect your home from an invader, and mold is an invader. Unfortunately, a minor mold can quickly become a lot of molds if ignored. While mold is an inherent part of our ecosystem, naturally living both outdoors and in our homes, it can cause problems when mold is introduced to moisture. Water can be presented inside our homes—through rainwater, a pipe leak, or condensation on foggy windows. When this moisture source meets airborne mold spores, the mold will start to grow. Mold will latch onto any substance—a bathroom window, drywall harboring a leaky pipe, or even carpet in the basement. Once mold finds a new home, it will eventually consume its host, so it's crucial to attack mold as soon as you find it. That small amount of mold can transform into a vast, costly headache by eating away at the integrity of your home. At Connecticut Mold, we can provide safe, effective, and thorough mold removal so you can get back to loving your home.
Health 
The most fundamental reason for removing mold from your home is to protect your family's health. Most mold species are allergens, meaning they cause some allergic reactions in susceptible people. Allergy symptoms like colds, sinus issues, and coughs can result from sharing your home with a mold colony. People with compromised immune systems may suffer from asthma attacks, breathing problems, and prolonged respiratory issues. Your family's health is paramount; eradicating mold colonies is vital to protect their health. At Connecticut Mold, we take every precaution when removing the mold using the most advanced techniques and technology.
Removal
Removing mold may seem like a relatively simple task, but it is pretty involved. Mold spores disturbed by movement can send them floating through your home's air, just searching for another spot to land. Also, when you attempt to remove the mold, you may not be able to determine if you got it all because mold can hide in spots you cannot see. Bleach may work for some types of mold, but not all, and if you are unsure of the kind of mold in your home, bleach may not be enough. Often, people will paint over the mold to try and kill it; unfortunately, this method doesn't work either. The mold will eventually just grow back. The only way to be assured that the mold has been removed is to enlist the assistance of a certified mold specialist, like the ones at Connecticut Mold.
At Connecticut Mold, we protect against cross-contamination by erecting barriers using plastic sheeting, and we ensure the safety of our technicians by providing PPE. The Personal Protection Equipment includes full face masks, goggles, boots, gloves, and a full-body protective suit, so the technician does not carry mold spores on his clothing. The mask and goggles protect him from inhaling the mold or absorbing the spores through his eyes. Our removal services include various cleaning methods to tackle the mold problem.
First, we determine the water source that is helping the mold grow. It must be eliminated for the mold issue to be contained truly. Air scrubbers and HEPA vacuums are used to clean the air, while special antimicrobial chemicals are applied to infected surfaces. All debris is carefully double-bagged, sealed, and then removed from your house for protection. Since mold removal is messy and potentially dangerous, we recommend leaving the process to the professionals. But the process doesn't stop there—at Connecticut Mold, we are dedicated to ensuring your home is returned to its pre-infestation state, so we return after the mold removal procedure to collect air and surface samples. From there, we can determine if the mold levels in your house have returned to normal or if follow-up removal methods are necessary. At Connecticut Mold, we go the extra mile to ensure the job is done right. Call us today for a free consultation!