Our Professional Team Removes Attic Mold
You need to take care of your attic, and our team is here to help you. We are Connecticut Mold, providing professional mold removal services to everyone in Stamford, Connecticut. If you live in the local Stamford area, it is critical for you to monitor your house for mold, and that includes your attic.
Even though you might not go into the attic very often, mold can show up when you least expect it. What do you need to know about attic mold, and how can you get rid of it? Learn more below, and contact us to schedule an appointment with our team.
At Connecticut Mold, we have a professional mold removal service that can remove mold from just about anywhere. This includes your attic. We have worked with homeowners across the state, and it would be our pleasure to assist you as well. We would be happy to come to your home, take a look at your attic, and identify any mold that might be present.
Then, we will discuss precisely how we can remove it. Our goal is to protect your friends' and family members' health and safety while preserving your property. Do not hesitate to reach out to us to learn more about how we can help you remove attic mold as well.
What Is Attic Mold?
Attic mold is a fungus that grows and spreads throughout the attic. It can be found in different types of decaying matter and comes in many shapes and forms. Because your attic is so warm and humid, it is easy for mold to grow in the environment. If you do not act as quickly as possible, they can spread to other areas of your house. As a result, you need to invest in regular mold testing to identify and rectify the situation as quickly as possible. Our team would be happy to help you address all of those issues.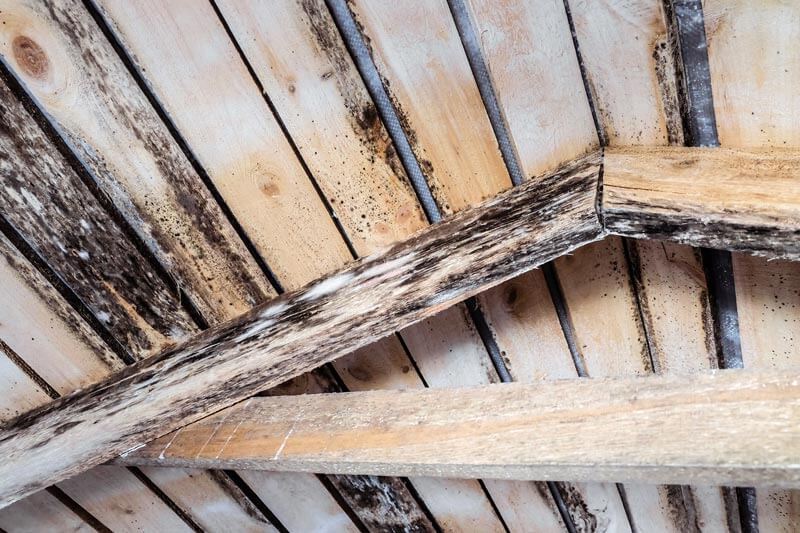 The Top Causes of Attic Mold
There are several common reasons why you might have mold in your attic. Some of the most common causes include:
There might be a water leak somewhere on the roof, increasing the humidity level in the attic.
The attic might trap heat, which makes mold growth conducive to mold growth.
You may not have been in the attic for a while, allowing mold to spread unchecked.
You may have put something in the attic that already had mold, allowing it to spread throughout the attic.
You must rely on an expert team to help you clean up your attic mold, and we can help you.
What Are the Signs of Attic Mold?
There are several common signs that you may notice if you have mold growing in your attic. Some of the most common symptoms include:
The floor might look a bit discolored.
You may realize that you are coughing and sneezing more than you usually do.
You may notice some unusual smells in your attic when you go up there.
Your attic's books, boxes, furniture, and containers might change color.
There could be some unusual stains on the wall that you had not previously noticed.
You must address attic mold as quickly as possible, and our team is available to assist you.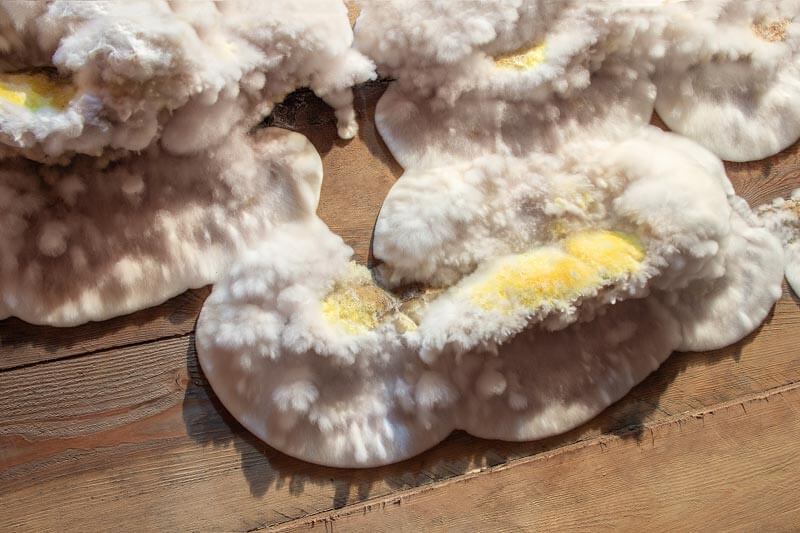 Where Does Attic Mold Appear?
Every mold is different, and every attic is different as well. There are several possible locations where mold will hide. For example, it is not unusual to see mold on the ceiling. Or, if a pipe is in your attic, you might have mold in that area. You might also notice mold hiding behind bookshelves, under containers, and inside boxes. It is not necessarily easy to spot attic mold, so if you are in the attic looking for it, you need to have a flashlight.
How To Identify Attic Mold: Trust the Experts
If you want to identify the mold in your attic, several options are available. Two of the most common types of mold that we see are Stachybotrys and chaetomium. We have the equipment to identify the mold in your attic properly, so allow us to assist you.
You may feel like you can handle this on your own, but mold is dangerous. Instead, you need to reach out to a professional team that can help you perform a complete inspection. Once we are finished, we will let you know precisely what we find, and we will explain to you how to move forward with the cleanup process.
Rely on Connecticut Mold for the Best Mold Removal Services in Stamford, CT
You must investigate your attic from time to time, ensuring that you do not have any mold present. Even though you might feel like this is something you can handle on your own, it is always better to call a professional team to help you. At Connecticut Mold, we offer professional attic mold removal services in Stamford, Connecticut, and it would be our pleasure to help you as well. We are here to keep your family safe and will do our best to remove all of the molds in your attic. Call us today to make an appointment.
Also remember us for mold removal services in Monroe. We offer dehumidification, mold assessment, mold inspection, mold testing and mold remediation for your home or office!