MOLD TESTING IN EASTON
Have you found mold in your Easton home or business? If so, you may be wondering if you should have it tested to determine the type of mold invading your space. The answer is yes! Having the mold tested can provide you with solutions you may not otherwise have, including responses to health concerns and the structural integrity of your building.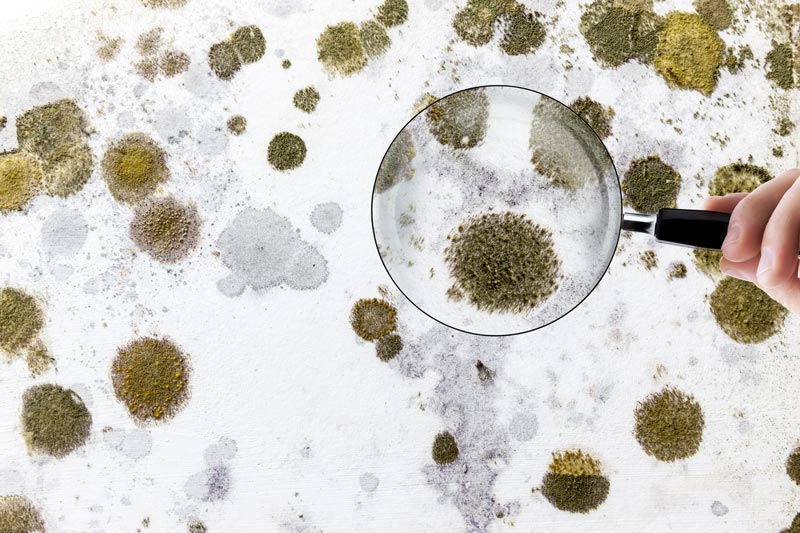 Not all mold is created equal, and with an estimated 100,000 different types of mold, knowing if you have toxic mold in your home or office may be of critical importance. However, it is unnecessary to have the mold tested because it must be addressed and removed regardless of the mold variation. At Connecticut Mold, we can provide all the services required regarding your mold problems. Our experienced staff of technicians is highly skilled and thoroughly trained in all aspects of mold detection, testing, and removal.
Mold Types
If you can visibly see mold in your home, you may wonder if you can distinguish between a toxic mold and a less harmful one just by looking at it. Unfortunately, it's not that simple. Even so-called 'black mold,' the kind that releases harmful mycotoxins into the air, isn't always black! Mold strains such as Stachybotrys and Chaetomium can be black, green, dark brown, grey, or even white. The only way to determine the type of mold is to collect a sample and have it tested by a laboratory. However, there are hazards to the collection process—disturbing growing mold spores can release them into the air, potentially contaminating other areas of your Easton home or office.
Professionals should administer this collection process to protect you from ingesting the airborne spores or absorbing them into your eyes or skin. It's important to know that these toxic mold types are harmful to health and need to be removed immediately. People with immunocompromised systems, pregnant women, small children, and older persons are especially susceptible to health concerns due to black molds. In rare instances, death has been reported, but in most cases, long-term effects have shown cognitive issues, neurological damage, lung and breathing problems, and typical allergy symptoms. Even less harmful mold variations pose risks to health, so it is imperative to address any mold growth.
Additionally, mold can break down the very structure of your home over time. Mold clings to various surfaces and slowly deteriorates the material, often compromising the structure's integrity! The mold works quickly, too; it can grow as soon as 72 hours from the introduction of a water source, and the damage starts to take place right away.
You may have stumbled upon do-it-yourself mold testing kits at your local store, but the drawback with these tests is they don't tell you the type of mold in your home or business. Since our indoor and outdoor environment includes mold in a natural state, a DYI mold test may not tell you anything more than you already know, especially if you can see mold in your dwelling. A professional mold test consists of a careful collection of mold spores from both indoors and outdoors so our technicians can measure the numbers against each other. This process not only tells us the number of spores inside your home, but we can test them for toxicity levels and genus types to determine their specific strain.
Mold Development
What causes mold growth in your Easton home? There's mold everywhere—on surfaces, in dust, and in the air, we breathe. When mold combines with a moisture source like condensation on your bathroom windowsill, a leak behind your wall, or a puddle of water from a flood, the mold will colonize if not addressed right away. These colonies can then permeate the materials they cling to, like floorboards, drywall, or carpeting, to name just a few.
Once the mold has settled into its host, it will start to break down the material, which could compromise the structure of your home. At Connecticut Mold, we understand that the first step in any mold situation is to find the water source and make sure the issue is resolved. If the water problem remains, the mold will continue to return. Determining the type of mold through professional testing services ensures that our technicians will know how to combat your mold growth and provide you with the necessary information to keep your Easton home healthy and safe.
Connecticut Mold
Having mold in your home can seem daunting and overwhelming. Where do you start to determine where the mold is in your home, and what can you do about it? Is your home making you ill by harboring toxic mold? At Connecticut Mold, we can put your mind at ease by answering all your questions and, more importantly, offering sound solutions. Trust the process to the experts at Connecticut Mold!
Book an appointment or call us today at Connecticut Mold—we're ready to help! We also offer mold removal, mold assessment, mold inspection, mold remediation and dehumidification services in Easton!