MOLD TESTING IN MONROE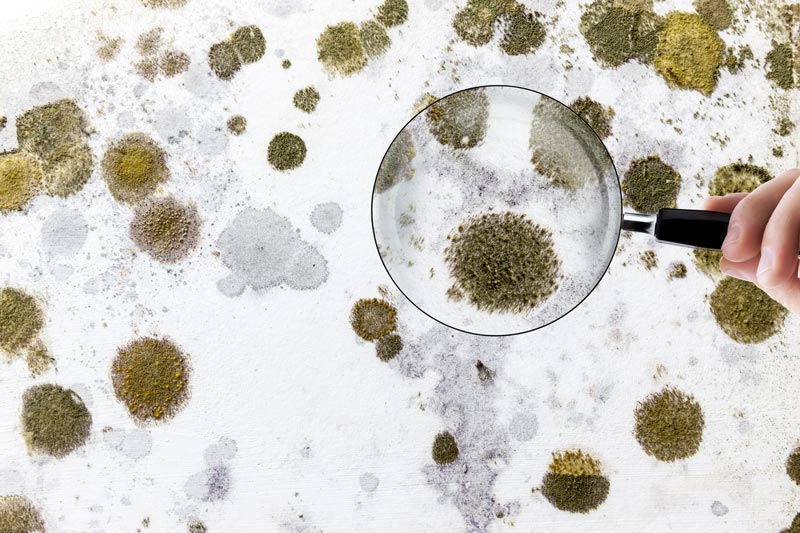 Do you own a home in Monroe, Connecticut? If so, you know Monroe has beautiful parks, and excellent schools are close to beaches and are just an hour and a half from New York City. You have also probably experienced the excess rainfall, snow, hail, and overall precipitation dumped on Monroe yearly and the 200 plus sunny days. The varying weather conditions are ideal for indoor mold growth inside your Monroe home because all mold needs to grow is a little moisture. While weather conditions can undoubtedly introduce water into your home, so can leaks, floods, poorly ventilated showers, and excess humidity.
Mold can accumulate in as little as 72 hours; the unfortunate part is you may not even know it is there! While prominent water infiltration from a leaky roof or a busted pipe can cause mold growth, sneaky water sources like pipes inside a wall or behind an appliance can cause hidden mold. And while mold is a constant in our ecosystem, it can prove hazardous if it starts to grow inside your Monroe home. What can you do to determine if you have mold? Can you find hidden mold sources? What problems can mold cause? Is all mold created equal? The professional, certified mold technicians from Connecticut Mold can answer these essential questions. At Connecticut Mold, our experts can perform a highly effective mold test to help you determine the answers to these queries.
Professional Mold Testing
While you can run down to your local hardware store and pick up a home mold testing kit, attempting a mold test yourself is not advised. First of all, you will have to take a sample of the mold, and in doing so, you can accidentally ingest spores in your eyes, mouth, or nose. You may inadvertently launch mold spores into the air when you disturb them, and they may land in other areas of your home and colonize. A do-it-yourself kit will most likely return a positive result since mold is in the atmosphere and naturally a part of your home. The equipment will not tell you where the hidden mold is hiding or the type of mold growing in your Monroe home. To save yourself the undue stress of administering the test yourself, enlist the assistance of our professionals instead.
At Connecticut Mold, we can provide a comprehensive mold test to detect mold in concealed spots using moisture meters. Our technicians are equipped with hazmat gear to protect them from ingesting spores for safety purposes. We can also send collected spores to the laboratory for analysis. Our experts can find the mold and determine its type using the latest technology and detection techniques. Some mold types are more hazardous than others, but regardless of the kind of mold in your home, you should have it removed immediately to avoid its spread. However, it is essential to know if there are strains of Stachybotrys or Chaetomium, also known as "black mold," which can be problematic. Black molds release mycotoxins, which can severely affect the home's health. Small children, older people, and pregnant women can suffer from ailments due to black mold exposure. Those with asthma, allergies, or respiratory diseases can also have mold-related symptoms. Investing in a comprehensive mold test by Connecticut Mold can help you attack and remove the mold before it causes health problems.
Additionally, various strains of mold can cause structural damage to your Monroe home if left unattended. Mold can attach to many materials, including insulation, wood, flooring, ceilings, drywall, furniture, and fabrics. Once mold permeates any porous material, the damage begins and can accelerate quickly. Mold will break down substances to the point they must be repaired or remediated; otherwise, the house will be overrun by mold and deteriorate. While mold may seem innocuous, it is vital to find it, test it, and have it removed as soon as possible.
Preventing Mold
Since mold spores are ever-present, finding ways to prevent them from colonizing is imperative. One way to discourage mold from congregating is to keep your air conditioning and heating unit in good working order so it does not leak and mold does not spread through the ductworks. You should also conduct routine home inspections for leaks or water breaches and ensure all your fans work in the kitchen, bathrooms, laundry room, and anywhere else with moisture.
Another good preventive measure is to have a yearly professional mold inspection to keep your home free of mold build-up. At Connecticut Mold, we can supply the services you need to keep your home in good repair and protect your family's health from unhealthy mold spores. Have questions about your Monroe home or business? At Connecticut Mold, we're here to help – feel free to contact us today for additional information on our wide range of services like mold removal, mold assessment, mold inspection, mold remediation and dehumidification!