Mold Removal in Darien
Air Ducts and Mold
How clean is your home's indoor air? Believe it or not, the air inside your home is two to five times worse than outdoor air, according to the Environmental Protection Agency (EPA). Did you know that mold can be living and breeding inside your air conditioning and heating unit? If you notice a musty smell when you turn on your heater for the first time in the winter, or your air conditioning unit doesn't seem to be pushing out clean air, it may be due to mold buildup. Just think—your family is breathing in that air in both the winter and the summer!
At Connecticut Mold, thoroughly cleaning the accumulation of mold from your air ducts is just one of the essential services we provide. Our professional mold technicians are trained to not only detect mold but carefully and expertly remove it. Mold removal can be a painstaking, tedious, and downright dirty process, best left to the professionals. At Connecticut Mold, we are concerned about your family's health, and we take every step possible to help remove the traces of mold throughout your Darien home.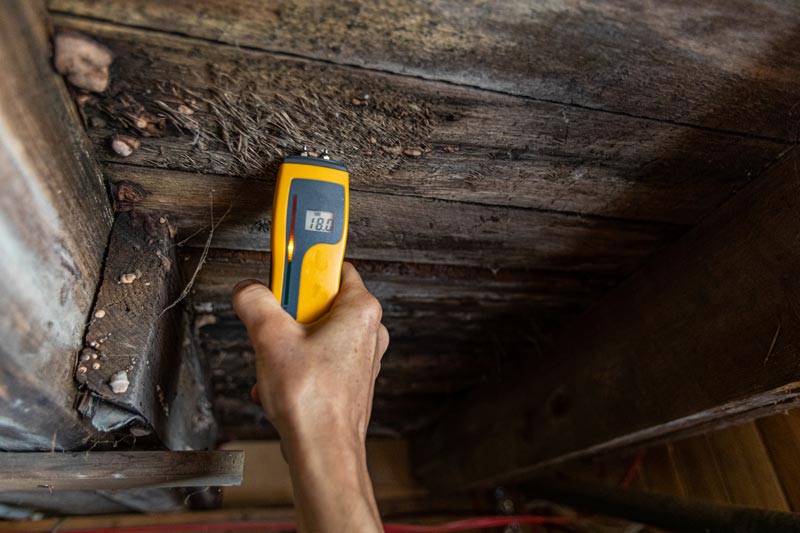 Why Remove Mold?
While every home has a smattering of mold, some levels of mold in the home can affect your family's health, so it is vitally important to determine the amount of mold in your home. At Connecticut Mold, we can provide professional inspection by a certified mold specialist to detect the mold in the air and on surfaces in your home. Often, you can see mold growth—in the shower, under the sink, in the laundry room, or even in the basement. Mold takes up residence wherever it can find the proper amount of moisture and humidity, and it can multiply quickly. If you note evidence of mold growing in your home, you will want to address it immediately before it causes structural damage and interferes with your family's health.
Mold is an allergen and has been known to create health problems, especially in children, older adults, and those who suffer from respiratory issues like asthma. Prolonged exposure to mold can result in itchy, watery eyes, runny noses, dry coughs, headaches, and in some instances, more severe symptoms. Mold can also attach itself to almost any surface, including flooring, drywall, fabrics, concrete, insulation, and live inside the ductwork. This problematic intruder can not only make you and your loved ones sick but can also damage the structural integrity of your home. Mold can chew through various materials in your Darien home, and left alone too long, can make your home inhabitable. Once mold has taken hold, it is not a painless process to have it eliminated, making professional mold removal a priority!
Connecticut Mold Removal
If you have found mold in your Darien home, you may attempt to remove it yourself, using a quick-fix solution you found on the internet or a do-it-yourself kit from a home improvement store. While these may help with your mold problem initially, there are several reasons to enlist the assistance of Connecticut Mold:
When attempting mold removal, you are never assured that you were able to get it all. It may grow back in a few days or weeks, and then you need to start the process all over again.
When you attempt to remove the mold, you may disturb the spores, launching them into the air to land in other places in your house, just to sprout in a new location. You're also ingesting it while you are cleaning, and mold can transfer onto your clothing and shoes, so while you're cleaning, you may also be spreading the problem throughout your home!
If you have found mold, there is likely mold in your home you can't see, the dreaded hidden mold.
Instead, let Connecticut Mold take on the task of removing the mold from your Darien home.
Professional Mold Removal
At Connecticut Mold, all of our technicians are specially trained in the removal of mold. To protect you, your belongings, and your family's health, we cordon off the area infected with the mold so that it does not transfer to other sites. We wear full protective gear– from hazmat suits to goggles to face masks—and use the most advanced equipment, techniques, and chemical solutions to decimate the mold's growth. We can also take air and surface samples to flesh out hidden mold that you can't see—like the mold in your air ducts and behind your drywall. Mold removal can be an extensive process, and at Connecticut Mold, our goal is to deliver to you the peace of mind that the situation has been professionally rectified. If you have discovered mold in your Darien home, it's time to call the certified mold experts at Connecticut Mold! Additionally, Connecticut Mold also offers mold services like mold assessment, mold remediation, dehumidification, mold testing and mold inspection in Darien!