Mold Inspection in Wilton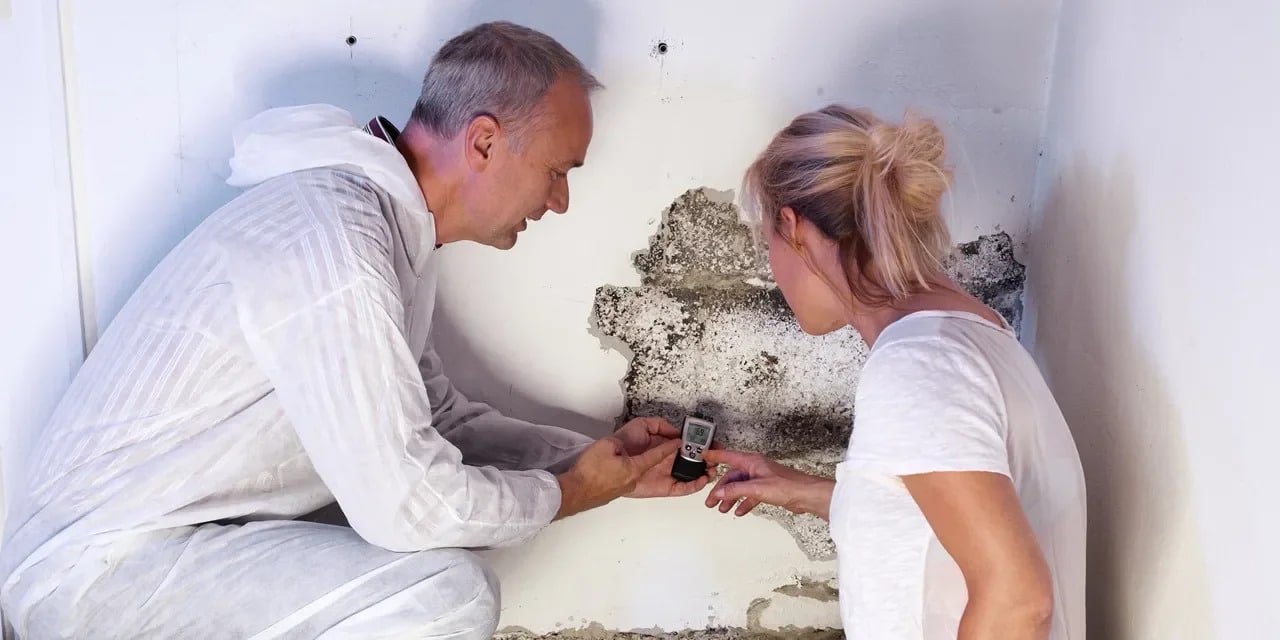 Like most people, you would do anything to keep your family safe from harm. You may have purchased an alarm system to deter intruders, or possibly you have installed security cameras to ensure your family's safety. But what about invisible intruders that may have already penetrated your Wilton home in the form of toxic molds? This unwelcomed visitor may be hiding behind walls, under kitchen cabinets, in your attic's insulation, or in other excellent hiding places. While having mold in your home may not seem as threatening as a burglar, the long-term effects of mold can be even more devastating than a break-in. What can you do to defend your Wilton home from the various types of mold that can flourish inside? The first step is to invest in a thorough mold inspection by the experts at Connecticut Mold.
Mold Hazards
Why is mold a threat? Unchecked mold growth can attach itself to the materials used to construct your home, including wood, drywall, flooring, metal, and concrete. This unaddressed mold can slowly eat away at the structure of your home, causing undue damage and destruction. The damage can quickly equate to thousands of dollars to repair your Wilton home or make it difficult to sell. Since your home is possibly one of your most significant investments, not to mention the place you call home, it is essential to ensure it is free of destructive mold. In addition to the damage mold can cause to your home's structure; mold can affect your family's health.
Mold is an allergen, so its presence can cause allergy-like symptoms in family members, including coughs, runny noses, and watery eyes. Older adults, small children, pregnant women, and people with compromised immune systems are even more susceptible to the effects of mold. In some instances, mold has triggered asthma attacks, respiratory issues, and in extreme circumstances, even death. The longer the mold is left to grow, the more mold is ingested, causing these potential health problems. Therefore, it is important to remove mold as soon as possible.
The trained technicians at Connecticut Mold can provide a thorough inspection and testing of your Wilton home to uncover any hidden mold that may be lurking. While visible mold is easy to spot, hidden mold can be challenging to discover without the proper advanced technology. We utilize the most advanced equipment and techniques to unearth the mold behind drywall, basements, attic crawl spaces, under flooring, and home appliances. Mold will seek out spots in your home providing moisture, so if you have an unknown leak or unattended drip, mold will likely find it before you do.
The comprehensive mold inspection by our professional team at Connecticut Mold can locate these moisture traps, take mold samples, and construct a plan to abolish this invader. While no company can completely eradicate mold since it is always in our ecosystem and circulating in our air, the mold levels can be controlled. A complete mold assessment and inspection by the professional technicians at Connecticut Mold can help you discover excess mold levels, where they may be concealed, and the type of mold in your Wilton home. We can provide the answers to all your mold questions.
Mold Categories 
It's important to know that not all mold is created equal. There are thousands of species of mold, many of which we encounter daily. One of the most common forms of mold found in damp homes is Chaetomium, which can grow on various materials. Chaetomium breaks down cellulose in household substances, including drywall, carpets, and paper items, eventually destroying them. Additionally, this type of mold produces large amounts of mycotoxins, the toxin chemical product produced by fungi. Long-term exposure through the lungs or skin can cause immune deficiency and even cancer, so it should be removed as soon as this mold is identified.
Another common, harmful mold genus is Stachybotrys, the black mold. This type of greenish-black mold is generally linked to poor indoor air quality resulting from water-damaged materials. It can produce mycotoxins and health issues, especially those with pre-existing health conditions.
A comprehensive mold inspection by our team at Connecticut Mold can help you determine the type of mold you are encountering and flesh out any hidden mold sources. Remember, mold needs a moisture source to thrive, so finding mold indicates your home has a leak or other water source. Removing this water source is vital in ensuring the mold does not return once it is released.
Connecticut Mold
At Connecticut Mold, we are experts in the industry, backed by years of experience, technical know-how, and professional, helpful staff. Our mold inspection of your Wilton home will be complete and extensive, providing you with the peace of mind you need about your family's dwelling. Call us today to schedule an essential and informative, dehumidification, mold assessment, mold remediation, mold removal, mold testing and mold inspection all kinds of mold services in Wilton!