Mold Remediation in New Canaan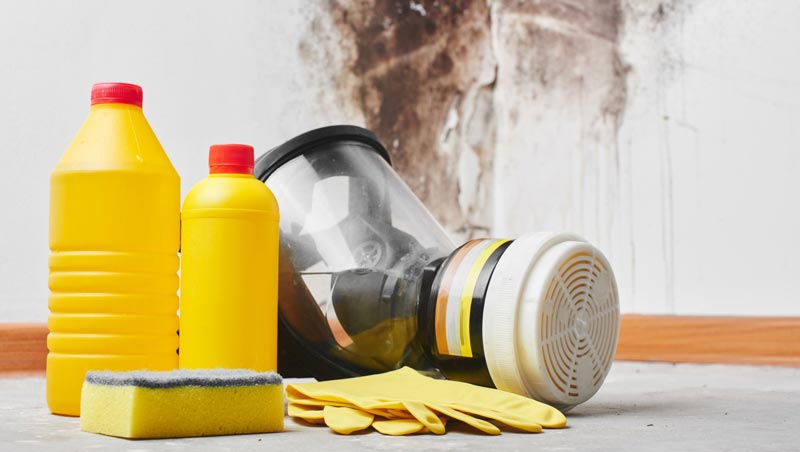 Mold is an invasive intruder that can wreak havoc on your home and its inhabitants. Once you find mold in your New Canaan, Connecticut, home, the time to fix the problem is now! When left alone too long, mold spores can increase and begins inflicting damage immediately. If your home has been subjected to relentless mold growth, you need the help of Connecticut Mold, New Canaan's premier mold remediation specialists.
Remediation Services
What is mold remediation, and how do I know if I need it? Mold remediation is necessary when you cannot fix the damage to your home; the material harboring the mold must be removed and replaced. For instance, if a leak behind your washing machine goes unnoticed for several months, the moisture attaches to the drywall and slowly eats away at it. If the drywall is destroyed beyond repair, you need remediation services to replace the drywall and eradicate the mold's growth. While it may sound like a simple process, it is complex and should only be completed by trained mold professionals. At Connecticut Mold, we specialize in all phases of the process, from mold detection to remediation. We want to help you return your home to the clean, breathable space you know and love.
Mold
While mold is an organism found in the air both inside and outside, the problem arises when mold meets moisture. Since mold spores are microscopic, they can travel quite easily on pets, people, and even inside your home's ventilation system. If mold spores come in contact with a leaky pipe or small puddle of condensation, the mold will thrive and multiply. People exposed to the mold can often suffer from runny noses, watery eyes, and some breathing issues.
Health Hazards
If your home has extensive damage, it could also be causing health issues for your pets and family. Living with mold affects each person differently; some suffer from allergy-like symptoms, some feel respiratory problems, and some die from toxic mold exposure in rare instances. Once you realize you have mold in your New Canaan home, you need to be timely in safeguarding your family's health. Therefore, a mold inspection and mold testing need to be done to check the severity of the mold.
Structural Damage 
Hidden mold or mold that a house flood or other catastrophe may have caused does the most damage. Since mold slowly erodes materials like wood, insulation, carpet, and even concrete, it can chew away at the strength and integrity of your home's foundation. Remediation can save your home from this fate; at Connecticut Mold, we can thoroughly inspect any mold growth to determine how much it has infiltrated your structure. We then expertly replace any rotted materials, from floors to ceilings to sheetrock to drywall.
Professionals
Even if you have experience remodeling homes, it is not the same as a remediation job. While part of the process requires replacing materials, mold remediation adds an entirely new level to the repair element. The section of the home infected with mold growth needs to be cordoned off from other areas for the health and safety of your family and to prevent the mold from spreading. At Connecticut Mold, before we begin the remediation process, we install plastic sheeting to keep the mold contained. Mold spores are easily disturbed and can travel and plant themselves in other areas of your house, which can start the process all over again! Our expert technicians ensure that all the removed materials are double bagged and carefully transported out of your home. We carefully filtrate the air and gently clean your belongings and home after we are finished.
In addition to your family's health, we also go to great lengths to protect our employees, so each technician is outfitted with personal protection equipment or PPE. The PPE includes a full bodysuit, boots, gloves, masks, and goggles to protect the technician from spreading the mold spores via their clothes. The masks ensure the airborne spores are not ingested, which could potentially cause breathing issues for our workers. At Connecticut Mold, we understand that mold remediation is a messy yet delicate science project and must be approached with thorough care and consideration. Our goal is to leave your home in its pre-mold condition.
New Canaan's Choice
Our technicians at Connecticut Mold strive to be the very best at what they do, and our stellar reputation says it all. We are a leader in the mold remediation, mold testing, dehumidification, mold inspection, mold assessment and removal industry, with many years of experience and expertise. Not only are our technicians specially trained and certified, but we only use state-of-the-art equipment and techniques when attending to your home's remediation. Our attention to detail and willingness to go the extra mile sets us apart from other mold remediation companies. When you need help with your New Canaan home, call the experts at Connecticut Mold for fast, friendly, thorough mold remediation services.