Mold Testing in Weston, CT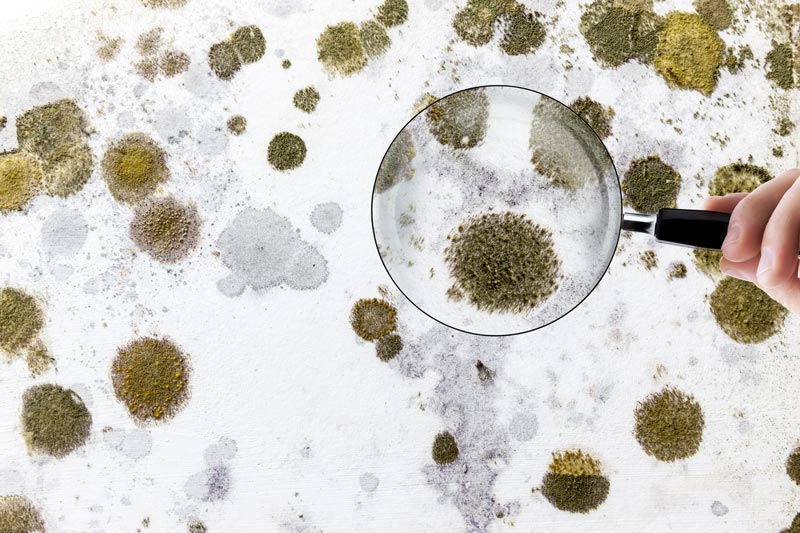 Mold can be a common occurrence in any type of Weston, CT home. Mold can affect your home and family's health during any season, making it a dangerous invader. Whether you're the owner of a new home or are renovating an older home, it's essential to look out for the signs of mold and get the appropriate testing. Mold Testing in Weston, CT, goes a long way toward protecting your family. Connecticut Mold is here to help with our comprehensive mold inspection, testing, remediation, and more!
The Dangers of Mold in Weston, CT Homes
Mold occurs naturally due to the fungi that grow into tiny organisms known as hyphae. Mold usually occurs in a home due to excess moisture build-up and water damage. Unfortunately, once it is present in your home, mold can quickly continue to spread due to its many spores being released into the air.
Mold can occur both indoors and outdoors, and in both areas can be hazardous to human health. In fact, according to the CDC, exposure to mold in your Weston home can lead to issues such as:
Stuffy nose
Wheezing
Red eyes
Itchy eyes
Itchy skin
Trouble breathing
Fever
Cough
These symptoms can be even more pronounced in people with pre-existing conditions such as asthma, seasonal allergies, bronchitis, or other upper-respiratory issues.
If you've been suffering from some of the above health symptoms, notice large amounts of mold growing in your home, and smell mold build-up, it's time to get professional mold testing done on your Weston, CT home. An experienced team will be able to properly diagnose your home as having mold and offer solutions to get rid of the mold in your home and prevent it from coming back.
Why Professional Mold Testing In Weston Is Life-Changing
There are over 100,000 different species of mold. At Connecticut Mold, we can help test and pinpoint some of the most common types of mold that are dangerous to health and can be found inside of any Weston, CT home, including:
Cladosporium
Stachybotrys
Chaetomium
Penicillium
Aspergillus
However, according to the CDC, no matter what type of mold in your home you have, it's best to remove it immediately. Mold testing experts in Weston, CT, can determine what kind of mold you have, pinpoint the direct cause of your mold infestation, provide effective mold treatments, and help prevent the mold from affecting your Weston home again.
Let the Pros Find Mold's Hiding Spots
The first step in removing mold and restoring your family's health is to find any mold attacking your home. Some mold might be readily visible to the naked eye, such as black mold growing inside your tub or other areas filled with moisture.
However, mold can also grow in hidden spots within your Weston, CT home. These include areas within your drywall, insulation, crawlspaces, basement, and more. If you can't see the mold but can smell it, the mold will continue to spread, destroying your home silently from the inside out.
Fortunately, the mold testing pros at Connecticut Mold have advanced technology to detect mold within the home. They will take samples of your home's suspected mold while dressed in gear designed to protect them from the harmful mold stores. This way, you or your family don't have to risk your health to test your mold and can find relief from any symptoms as quickly as possible.
When Doing It Yourself, Just Won't Cut It
Although you might be able to get rid of certain problem spots of mold in your home by yourself, this is not a permanent or practical solution. Touching the mold or breathing it while trying to do amateur tests and treatment can also negatively impact your health.
If you are unsuccessful in detecting or treating it, mold can continue to hide in your home through ceiling tiles, drywall, carpet, and upholstery, among others. If you find mold hiding in moist areas of your Weston home, such as the shower, it's essential to understand what type of mold this is and how to treat it effectively.
Not only can the experts at Connecticut Mold test for existing levels on the surfaces of walls and furniture, but they can also detect moisture levels in your Weston home's air.
By measuring mold levels throughout the home, your technician will understand where the problem area of the house is and focus their attention on this specific region.
Get Peace of Mind With Mold Testing in Weston, CT
There's no better way to protect your home and keep your family healthy all at once than with mold testing services. Even if you've already undergone mold treatment, testing for mold can prove helpful in determining whether or not treatments were effective!
Gain peace of mind and help your home stay mold-free with the testing services offered at Connecticut Mold! Contact us today for the best mold testing in Weston, Connecticut. Also, remember Connecticut Mold for additional mold services like mold assessment, mold remediation, mold removal, dehumidification and mold inspection in Weston!