MOLD REMOVAL IN MONROE
You've completed a mold inspection and testing, and it has been determined that your Monroe home has mold growth. What steps can you take to rid your family's home of this potentially dangerous intruder? At Connecticut Mold, we can help. Mold services are our specialty, and we can offer viable solutions to your home's mold problems. As a local leader in mold services, Connecticut Mold technicians are specially trained professionals who can provide the answers you need to make your home clean and comfortable again.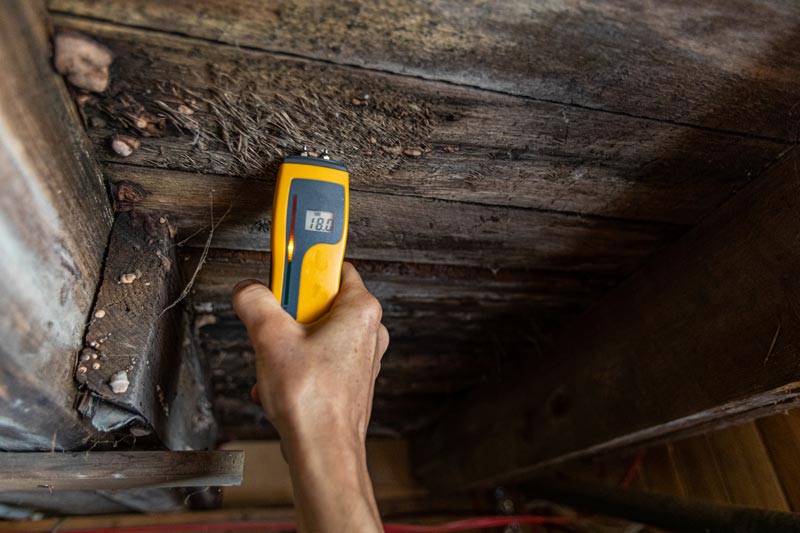 Once mold has infiltrated your home, it's essential to address it immediately. The longer mold is left to rot and grow, the more damage and harm it will inflict. Mold can inflict structural damage on porous materials, breaking the home's integrity. If caught in the early stages of growth, these materials can be cleaned and saved during the mold removal process. While it may seem to be a relatively straightforward process, it is best left to the professionals! Mold growth removal can be dirty, tedious, and requires particular safeguards to ensure that the mold spores are not sent airborne only to inhabit a new area of your home. Plus, when trying to remove mold yourself, you can never be assured that you were able to pull it all and if it will grow back. In addition to subjecting yourself to mold spores, you may have to use harsh chemicals to kill the mold, exposing yourself and your family to a new hazard. Instead, enlist the services of the experts in the mold game—Connecticut Mold. At Connecticut Mold, we have the extensive knowledge to gently and thoroughly remove the mold growth from your Monroe home.
Why Remove Mold?
In terms of mold growth, hidden mold is the worst because it lurks in spots, affecting your home's structural integrity and your family's health, and you may not even know it is there! Certain molds, like strains of Stachybotrys and Chaetomium, emit chemicals called mycotoxins, which can cause serious health issues after prolonged exposure. Removing the mold as soon as possible is best for the state of your home and your family's health. However, you wouldn't clean up a radioactive spill or other hazardous waste product on your own—you would call in a professional to handle the potentially dangerous job! By enlisting the assistance of the crew at Connecticut Mold, you are in excellent hands. Once your mold inspection has unearthed the hiding location of your mold growth, we take the necessary precautions to remove the mold painstakingly, so it does not return before it has a chance to do real damage.
At Connecticut Mold, we follow stringent guidelines to protect your home and your loved ones from additional mold exposure. One of the first steps we take when completing mold removal is to cordon off the areas of your home that have been infested with mold. Plastic sheeting with designated, zippable entry points is set up to discourage mold spores from circulating in the air and inhabiting new areas. Our technicians are outfitted in full protective gear, from goggles, masks, gloves, and booties, to full-body hazmat suits. This gear protects the technicians from ingesting mold particles through their skin, eyes, nose, or mouth, while the plastic sheeting protects your family from the areas of the home undergoing work. All fans, air conditioning, and heating units are turned off until our technicians can clean the ducts, and spores are not disbursed through the system.
Limiting airflow helps keep the mold spores in a centralized place so that more colonies do not spring up. Air is cleaned using powerful HEPA air scrubbers, and porous materials are dried using industrial drying fans. Materials infiltrated by mold are then scoured, scrubbed, and cleaned using advanced antimicrobial chemicals and a sealant to stop mold from reemerging. HEPA-filtered vacuums are used to clean up any debris. All damaged items or materials are carefully double bagged and discarded so they do not continue to decay and spread the mold spores. Our crew may complete the removal process in a matter of days or over a few weeks, contingent upon the damage and your home's unique needs. Our team will openly communicate with you during the entire process, so there are no surprises, and all your questions are answered to your satisfaction.
Our goal at Connecticut Mold is to leave your home in better shape than we found it by eradicating mold growth and removing signs of decay. However, please note that your home will never be "mold-free." Mold is a common element in our air and ecosystem, so it will always be present in your Monroe home. No company can guarantee that your home will be free of all mold; it just isn't possible. It is possible, however, to fix the water source to ensure the mold does not colonize and create problems. We go the extra mile to ensure you're pleased with our services at Connecticut Mold.
If you would like to learn more about how we can help you remove mold from your home, call us or schedule a consultation today to speak to our experts. We offer additional mold services like mold assessment, mold testing, mold inspection, mold remediation and dehumidification in Monroe!