Mold Inspection Fairfield, CT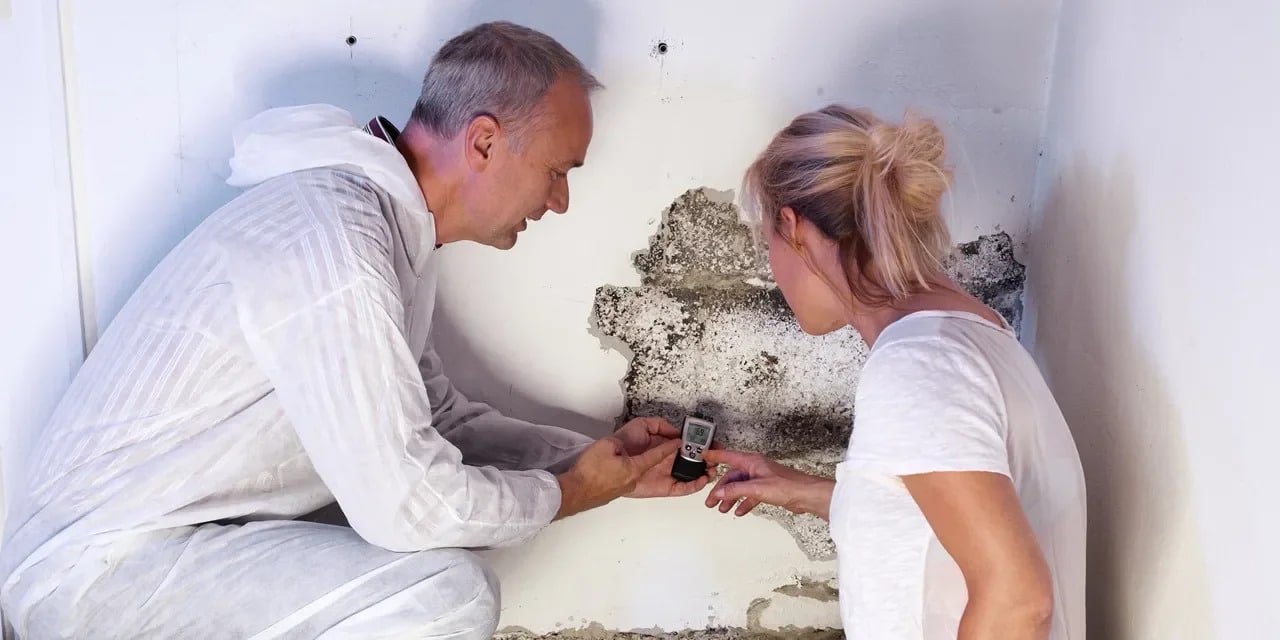 Mold can grow just about anywhere, and this includes your home. That is why it is essential to be vigilant. At Connecticut Mold, we are proud to provide comprehensive mold inspection throughout the Fairfield area. If you have a Fairfield home, it would be our pleasure to come and inspect your house for mold. Mold can be hidden in specific locations, making it hard to find. It might be in your home even if you cannot see it. You need to eradicate this problem before it can spread to other areas, and our team can assist you.
How Does Mold Grow?
Mold can grow in your home when moisture is introduced into it. Mold likes to grow in a warm, wet environment, so mold can grow relatively quickly if these conditions are present in your home.
Some of the most common reasons why you might have extra moisture in your home include:
You may have a leaking pipe or a broken faucet somewhere in your home.
There may be a problem with the shingles or flashing on your roof, causing water to leak through your ceiling into your attic.
You might have a crack in your foundation, which leads to water infiltrating your home.
You might also have a leaking appliance somewhere, such as your refrigerator or washing machine.
If you think there might be mold present somewhere in your home, it is vital to invest in a comprehensive inspection, assessment and dehumidification that can uncover it. At Connecticut Mold, we would be happy to help you do exactly that. If we find mold in your home, we can also remove it for you.
Why Do You Need To Address It Now?
If you cannot see mold in your home, you might be wondering why you need to address it so quickly. At Connecticut Mold, mold spread soon throughout an entire Fairfield home. Even though you cannot see it right now, it will spread quickly if you delay.
The biggest reason you need to have your house inspected for mold is that you need to protect your family's health. If you have a lot of mold in your home, it can cause a lot of serious problems, including:
People who suffer from allergies might have more severe symptoms.
People who have asthma may develop more frequent asthma attacks.
Individuals who suffer from COPD may have a more difficult time breathing.
Vulnerable members of the population, such as children, pregnant women, and elderly individuals, may adversely impact their health.
Two of the most common types of mold we find are Stachybotrys and Chaetomium. They thrive in warm, wet environments, and they can be toxic and hazardous to your health.
We believe that everyone deserves to have access to clean air, including people who live in your home. Our mold inspection team can help you improve your indoor air quality, making it easier for everyone to breathe.
The other reason you need to have the mold removed from your home quickly is that it can impact the structural integrity of your Fairfield home. For example, bold can affect your carpet, fabrics, ceiling tiles, and wood. As soon as it takes hold, it can begin to erode these substances, impacting the building. If you want to prevent this from happening to your home, you need to get your house inspected for mold.
How Does a Mold Inspection Work?
During our process, we will conduct a complete visual inspection of the exterior and interior of your home. We will also collect air samples to figure out how much mold is present in the air. Mold can release spores, so we test the air sample.
We will also take direct swabs of your appliances, cabinets, HVAC unit, and other areas. Then, we will present you with a list of our recommendations, letting you know what we think has to happen to get rid of any mold we have found in your home.
We will also allow you to ask questions during this time. We want to get rid of the mold in your home and prevent it from coming back. The best way to do so is to give you the tools and knowledge necessary to perform proper maintenance and keep the mold away. If you would like to learn more about how our mold inspection process works, reach out to us and speak to our team.
Count on Connecticut Mold for All Mold Inspection Needs
It would be best to do everything you can to protect your family, which means getting rid of any mold present in your home. The first step in doing so is to invest in mold inspections. At Connecticut Mold, we would be happy to help you with that. We will work with you to develop a comprehensive plan to identify and eliminate any mold in your home. Contact us today to speak to a member of our team. We also offer mold removal, mold assessment, mold testing, mold remediation and dehumidification services in Fairfield!