Mold Testing
Health and Mold
That subtle, unexplained cough. Your runny nose, constant fatigue, and pounding headaches. The heightened asthma attacks, lung irritation, and difficulty breathing. Can these symptoms—and others—be attributed to mold in your home? The simple answer is yes—mold can cause illnesses, especially in those with immune deficiencies, elderly, and small children. How do you know if your Stamford home has mold and if it is making you sick? A complete mold test by the experts at Connecticut Mold can give you the answers you need.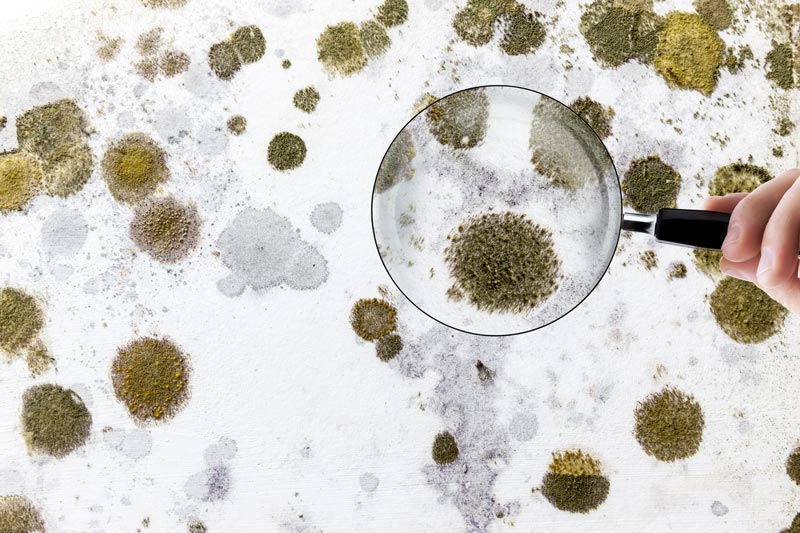 If you can smell that musty odor associated with mold, it is hiding in your home. Connecticut Mold's experts can perform a mold test to determine where the mold is and the quality of your home's air. Since there are many distinct types of mold variations, and some are more harmful than others, it is good to know which variation you have in your home. Every home and business has some level of mold growth, so that should not be a surprise; it's just determining the type of mold and the amount of mold that may be causing you harm. At Connecticut Mold, our certified mold technicians can perform a comprehensive test to determine what might be growing in your home and how to best remove it.
If you aim to rent or sell your home, having a mold evaluation is a must. An evaluation protects you from anyone having health issues while in the house, whether renters or new owners. Frequently, homeowner's insurance or a real estate agent may ask for a mold inspection since they are not required during a regular home inspection. If your home has a history of mold accumulation and you want to know if it has returned, having a certified mold professional evaluate your home will put your mind at ease.
While over-the-counter mold testing kits are available at your local hardware store, they may only provide a piece of the puzzle. They can tell you if there is a presence of mold in your home, but not where it may be hiding, nor the distinct type of mold that may be growing. A professional mold test performed by our qualified technicians tells us what to look for and how to address it.
Destruction
While it is clear that mold can contribute to health issues, it can also pose another considerable problem: damage. Whether you are following up on a previous leak and mold infiltration or checking for new mold, the issue of water damage and mold is a real threat. When left unmonitored, mold will multiply at a rapid pace and will attach itself to various surfaces. Mold can grow on glass, wood, drywall, insulation, and metal, just to name a few. If you can see the mold and it is growing on these surfaces, it can destroy the material and even damage the very integrity of your Stamford home!
Mold can infiltrate porous substances to the point where it is not salvageable and must be replaced. On other surfaces, a thorough and complete mold removal with specialized chemicals can kill the mold and keep it from returning, as long as the water source is stopped, as well. At Connecticut Mold, we can provide all these services for you to keep your home's mold in check and keep the structure of your house strong.
Testing
Unlike home mold tests, at Connecticut Mold, our mold testing consists of both air and surface assessments. To ensure you receive the most accurate mold readings possible, we take these samples from various rooms and spaces in the home and at contrasting times of the day. This sensitive work is best left to the professionals because disturbing mold spores can make them airborne and more likely to be ingested or spread. Our technicians take all the necessary precautions to protect themselves, you, and your home while collecting samples. The inside specimens are then juxtaposed with the samples taken outside, and if the indoor levels are elevated, we know to look for a mold source.
Since mold thrives in moist, humid environments, mold can spring up about anywhere in your home, so getting several samples is key in learning where mold may be growing. In addition to visible mold growth, we also search for hidden mold, the kind that likes to grow behind walls, in attic crawl spaces, behind appliances, and even in your home's heating and cooling ductwork! While taking mold samples and rooting around appliances may not seem necessary if you have already spotted mold in your Stamford house, it is crucial to find this hidden mold so it can be removed or, in severe cases, remediated. Trusting a certified mold company like Connecticut Mold can ensure you're not missing this hidden mold protecting your home and health.
Not sure where to start? Call us or schedule a free consultation! Also, don't forget about our additional services like mold assessment, mold remediation, dehumidification, and mold inspection in Stamford!