Mold Removal
Your Stamford home is a source of pride, so when you discover the presence of mold, you will not only want to have it removed, but you should also make sure it is removed! Since mold can grow as quickly as a few days, it is imperative to address mold growth as soon as possible. Often, you can see the mold growing, but it can also be hiding behind walls, in insulation, or behind appliances. Mold can conceal itself in places you may not expect, so if you suspect you have mold in your home, it is imperative to have your home evaluated. An assessment can help to determine the extent of the mold contamination. At Connecticut Mold, we use this information to enable our technicians to develop a plan for clean-up, mold removal, and, when necessary, material repair.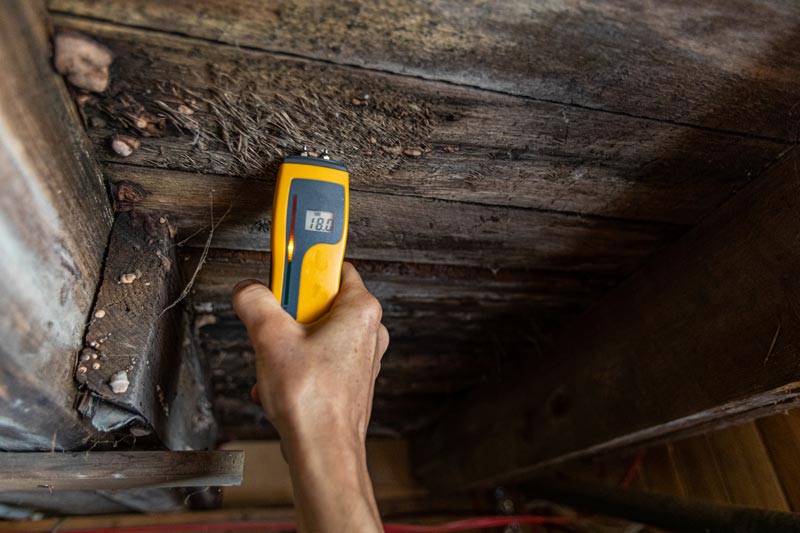 If you have experienced a water leak or a flood, you may know that these are perfect environments for mold to take hold. If you have a mold test completed, the results of an assessment may confirm the existence of mold in your Stamford home, and the next logical step is to have it removed. While it may not seem urgent to have the mold removed right away, the longer it is left to linger, the worse it will become. The mold can start eating away at the structure and materials of your home, threatening the very integrity of your house. Mold can also make pets and humans sick, causing allergic reactions and respiratory issues, especially in people with compromised immune systems. And while the mold is present in every home, when the levels are elevated, they become troublesome.
The airborne mold spores search for moist, damp, dark areas to land and grow wherever they can, in as little as 72 hours. While it may seem easy enough to clean the mold yourself, it is not always easy to remove it from your home. You can attempt to eliminate the mold by using bleach and other chemicals, but there is no guarantee that you will get it all. Painting over the mold does not kill it, and it will come back. To ensure you eliminate the mold so it is no longer growing, enlisting the assistance of a professional mold removal company is the best course of action. At Connecticut Mold, our trained professionals can gently and thoroughly attack the mold that is sprouting up in your Stamford home.
Professional Removal Services
At Connecticut Mold, we utilize the most advanced technology and processes to fight your mold problem. We understand that each situation is unique, and we collaborate with you to achieve your desired results within a time frame that best suits your needs. The first step in our process is to locate the water source because without fixing the problem, the mold will reappear. To completely track hidden mold, we perform an extensive inspection using infrared equipment to check for mold in walls, ceilings, and other spots it may hide. This hidden mold is harder to detect and, therefore, harder to remove.
Our skilled, certified mold technicians adhere to stringent guidelines during the removal process to keep the mold from becoming airborne and nesting in a new location. These guidelines include using hazmat suits, goggles, gloves, and masks to protect our technicians from any hazards. The area with the mold is cordoned off with plastic protective sheeting to help safeguard your family and discourage cross-contamination. Our primary goal is to provide you with a safe and healthy environment.
Our certified mold technicians will then use an assortment of cleaning methods, contingent upon the amount of mold, where it is located, and the surfaces on which it is growing. At Connecticut Mold, we utilize HEPA vacuums and air scrubbers to remove the air's mold, dust, and debris. We apply specialized antimicrobial disinfectants and chemicals to infected surfaces. For example, if the mold has penetrated any porous materials like wood, drywall, bedding, tile, or carpeting, these items will need to be removed along with the mold. Sometimes the infiltration is too significant to just clean the area; these items may have to be remediated after the clean-up is complete. Any articles or materials removed during these steps are carefully bagged, sealed, and disposed of by our trained professionals.
Post Mold Removal
When clean-up and any necessary remediation are complete, our service doesn't end there. Once our technicians have successfully removed the mold from your home, we complete a follow-up inspection to make sure the mold levels have returned—and remain—in their natural state. Our professionals can also provide you with tips to prevent recurring mold infiltration, as well as discuss any areas of concern you may have. At Connecticut Mold, we go the extra mile to guarantee your satisfaction. Schedule a free consultation or just give us a call!