Mold Testing In Westport
Do you suffer from unexplained allergies? Have you experienced breathing issues? Has your asthma been giving you more trouble lately? The answer to these questions might be inside your Westport home. Often associated with "Sick House Syndrome," homes harboring mold growth can lead to health issues for their inhabitants. While a runny nose or subtle cough may seem minor, constant exposure to mold spores could hurt your health over time. Protecting your health is the crucially important reason to have your home tested for mold accumulation.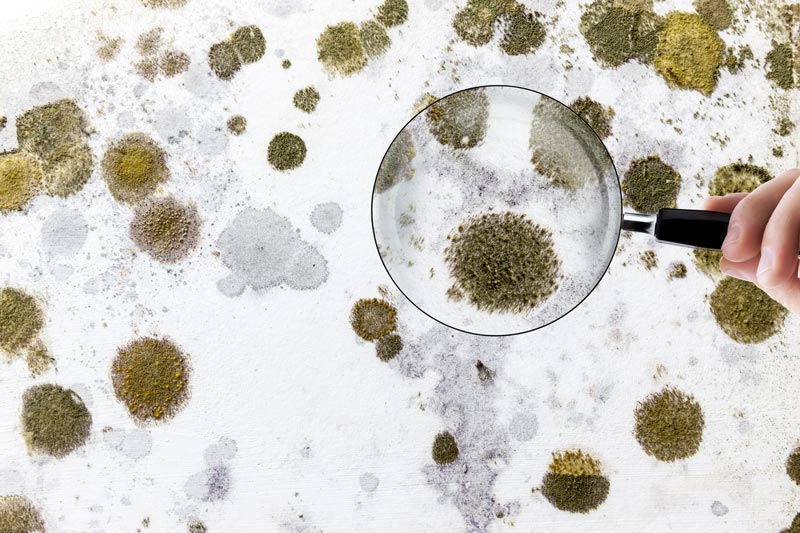 Westport is known for its humid summers and cold, wet winters—an ideal environment for mold to flourish. At Connecticut Mold, we are intimately aware of the hazards the weather can bring to your home, including the introduction of mold. It starts harmlessly enough—mold floating in the air or innocently brought inside the house by a person's clothing. When that mold finds a water source—any water source—it will plant itself and begin to colonize.
While many molds are relatively innocuous, sinister molds can genuinely affect your home and your health, but the tricky part is determining which type of mold you have in your Westport home. While not all molds look alike, and some are easier to identify by sight than others, there are over 100,000 different species of mold, some more harmful than others. At Connecticut Mold, we offer a comprehensive mold testing and mold inspection service to determine the type of mold that your home is cultivating.
Hidden Mold
If you see mold in your home, you already know you have a problem. If you can't see mold in your home, you may have an even BIGGER problem. Many types of mold hide throughout your home, and until you see structural damage or experience health issues, you may not even know it is present! A mold test by a certified specialist can provide you with essential answers by identifying visible mold and seeking out hidden mold.
The first step is finding the water source feeding the mold's colony. It may be a leaky pipe in the basement, a missing roof tile letting in the elements, or possibly even a flood from rain or snowstorm. However, the moisture is getting into your home; our technicians will find it so it can be stopped. Once the water source has been fixed, the focus will be on the mold. If the water source is not eliminated, the mold will return, and spores can spread through your home, seeking new places to colonize.
DIY Vs. Professionals
You can choose to tackle the mold issue yourself by purchasing an in-home mold test at a local store. It should not be a surprise that the test will come back positive for some mold—every house has mold; it's a matter of how many spores and if they are colonizing. An in-home test will also not tell you where the mold may be lurking or which type of mold is inhabiting your home. While it may not be necessary to find out what type of mold your home has—any mold in the house is an issue—there are significant health risks associated with certain molds.
For instance, Chaetomium and Stachybotrys are considered types of "black mold," generally found on paper products, wood, windowsills, carpet, wallpaper, plywood, baseboards, and sheetrock that have experienced some sort of water damage. There are many sub-categories of these mold types, and many of these subtypes produce mycotoxins. This chemical can cause fungal infections, irritate the lungs, cause cognitive damage and increase the likelihood of autoimmune diseases after prolonged exposure. People with compromised immune systems and people who have been exposed to these molds for extended periods can experience even more significant ill effects.
Protecting your loved ones' health is the most important reason having a professional mold test is so imperative. At Connecticut Mold, we can find the mold, test levels inside and outside the home for comparison, test several areas of your home at different intervals, and provide you with comprehensive results. By using advanced technology and equipment, we can look behind walls, under appliances and flooring, and even around the perimeter of your home to see where the mold is hiding and colonizing.
Our Team
At Connecticut Mold, our technicians are skilled, trained professionals who have experience detecting, testing, and removing mold from your Westport home. We provide you with all the information you will need to determine the next steps in the process, which should include removal and possible remediation. We will also give you expert advice on discouraging new or recurrent mold growth and answer any questions you may have. Don't risk your health any longer by trying to solve the problem yourself; trust the professionals at Connecticut Mold for your mold testing services!
Schedule an appointment or call us today! Also, don't forget to ask about our additional mold services: dehumidification, mold assessment, mold remediation, mold removal, and mold inspection in Westport!