Mold Removal Norwalk
Whether you accidentally stumbled upon some mold growth in your Norwalk home or had a thorough inspection that uncovered some hidden mold, the time to act is now. Mold can increase, so once it has been discovered, it is imperative to remove it before it can cause undue damage to your home and your health.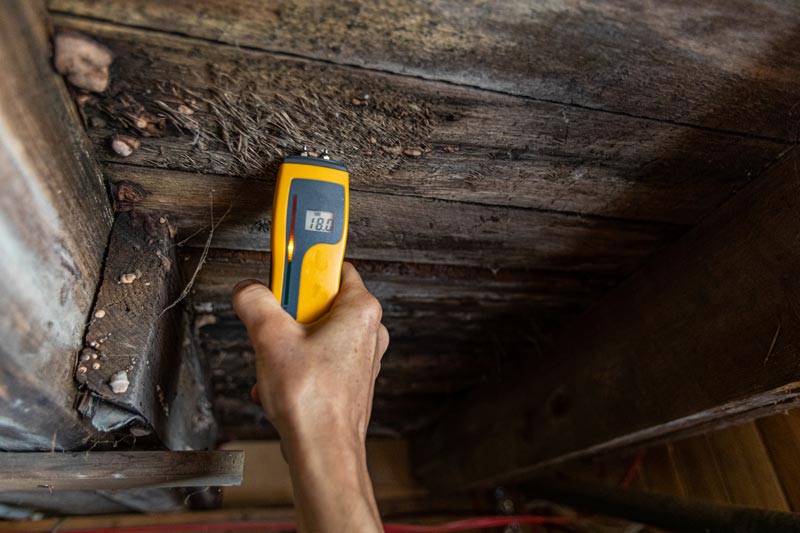 You may not think that having some mold in your home is a big deal; you would be correct in most cases. Mold IS prevalent in every home and business—it's a natural part of our ecosystem. However, problems can occur when levels become elevated and the mold spores meet moisture. Mold will start to grow on various surfaces, and airborne spores easily transport it. Cross-contamination is common, and materials like glass, furnishings, flooring, and drywall can be hosts for mold growth. This can lead to the breakdown of the materials, which can lead to many problems for the structure of your Norwalk home. This unwanted intruder can also cause health problems for your family and pets, including allergy-like symptoms and respiratory issues. At Connecticut Mold, we have years of experience in the safe removal of mold, and our certified technicians can provide you with a detailed accounting of your home's condition.
Protection
Mold is a resilient substance; it doesn't go away quickly. Since it can grow on virtually any surface, it needs a little moisture to become problematic. Many people attempt to remove the mold by using bleach or other disinfectants. Depending upon the type of mold and the breadth of the issue, these remedies may not solve the problem. Some people try to paint over mold to get rid of it; the mold will eventually return because the paint has not killed it. The mold removal process is delicate and should be performed by professionals, especially if the infected area is more significant than 10 square feet.
At Connecticut Mold, we understand that cross-contamination is a real possibility, and our technicians take extra care to protect the other areas of your home. After determining the entire scope of the job, the first and most crucial step is to eliminate the moisture source or the food for the mold. If the water vapor, condensation, or a leak is not resolved, the mold will return, so the moisture problem must be addressed first. Next, the infected area is cordoned off with protective plastic sheeting and other containment barriers, so that airborne mold does not move to other house areas and protect its inhabitants. Your family's health and the health of our technicians is our primary concern when providing this service. Our technicians protect themselves by wearing full hazmat suits, including goggles, masks, and gloves. Inhaling mold can be bad for the lungs, so protection is essential for the removal process.
Mold Removal Process
There are many steps involved in removing mold. In addition to a visual inspection, our certified mold technicians utilize state-of-the-art procedures, including moisture meters and thermal imaging, to ferret out any hidden areas of mold that are not visible. Areas like air conditioning and heating ducts, attic insulation, and behind drywall can be hiding condensation. The meter can detect wetness, even if it isn't apparent to the naked eye. The technicians then use environmentally friendly chemicals and advanced equipment to remove the mold to ensure it is thoroughly eradicated. All debris is carefully double bagged and taken out of your home while a HEPA air filtration device is used to ensure the air is kept clean.
A HEPA vacuum removes mold spores from surfaces, and then everything is wiped down with antimicrobial solutions. A clear coat of mold-resistant compound is administered to all infected areas to discourage the regrowth of any mold. The clean-up process returns your home to its pre-removal state, and after the job is fully completed, we come back to inspect to confirm that the mold has not returned. We also provide you with a comprehensive report detailing the inspection, removal, and findings. If too much damage has occurred to the property, remediation services will be recommended. At Connecticut Mold, our collective goal is to provide personalized, outstanding service.
Why Choose Us
At Connecticut Mold, we have established our reputation as a leader in the mold removal industry by utilizing the most advanced, environmentally friendly technology and techniques. Our certified technicians are equipped with the necessary skills, knowledge, and expertise to tackle your mold problem. By stringently following the mold removal industry's regulations, Connecticut Mold takes pride in the services we provide to our neighbors in the Norwalk communities. Schedule a free consultation with us today!
Connecticut Mold also offers mold assessment, mold testing, mold inspection, mold remediation and dehumidification services in Norwalk!