Mold Inspection in New Canaan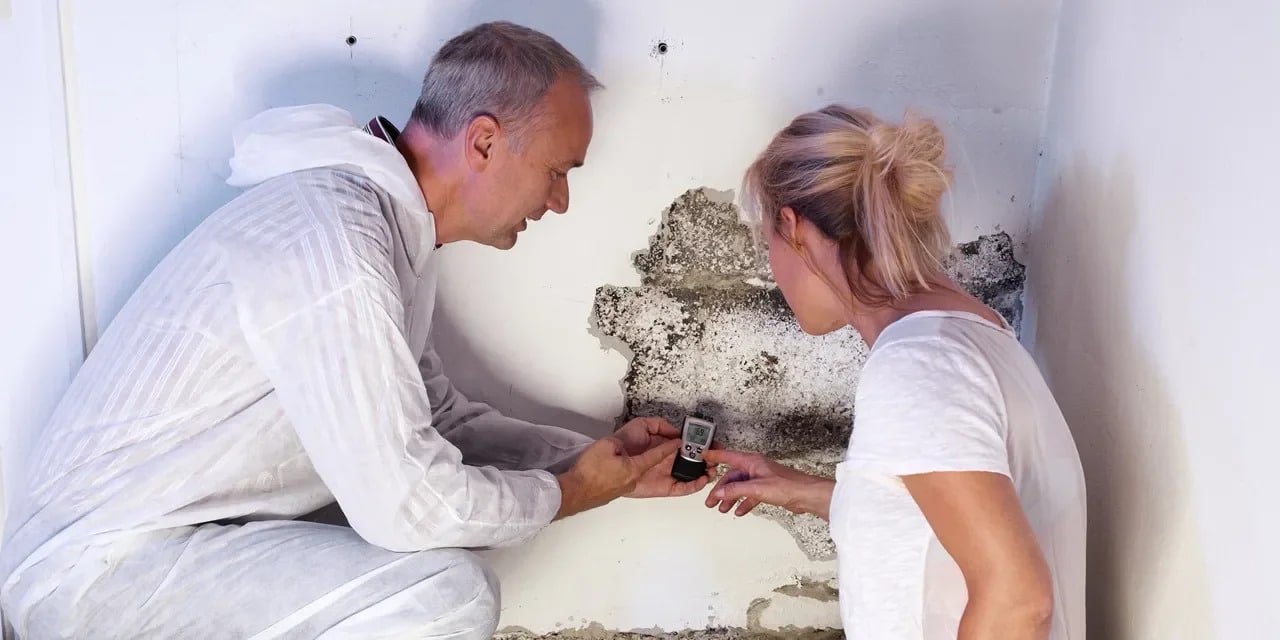 New Canaan is a prime location for mold growth with its wet, rainy days, snow-filled winters, and hot, humid summers. While you might think you would know if you had mold lurking inside your New Canaan home, sometimes it can be hiding in not-so-obvious places, like your home's insulation and behind the drywall in your laundry room. How can you unmask this hidden mold? Invest in a mold inspection by Connecticut Mold, the foremost mold inspection company in New Canaan and surrounding areas. At Connecticut Mold, we will thoroughly examine your home, inside and outside, find the mold and its water source, and provide solutions. If you even suspect you have mold in your home, the time to act is now!
Inside Mold
Mold is everywhere; we can't hide from it. It can, however, hide from us in cracks, crevices, and even in your air conditioning and heating unit! There are mold levels on the items we touch, in the air we breathe, and outside in nature, so having a home completely free of mold isn't realistic. However, when mold meets moisture, it forms colonies, where the trouble begins. A small drip under your kitchen sink will attract mold spores in the air, causing mold build-up. Since it only takes about 72 hours for mold to multiply, it doesn't take long for the mold to begin to flourish. The dank, musty smell of mold might give it away, and you may suspect there is some mold in your home, but you may not know where it is hiding or what to do if you find it! Wherever it may be, the first step is to eliminate the water source so the mold cannot colonize because, according to the Environmental Protection Agency, indoor air is anywhere from 2 to 5 times more polluted than outdoor air. Hidden mold in an enclosed house makes your air quality even worse. Since we spend so much time indoors, and our homes are closed up in the wintertime, mold has the opportunity to grow. At Connecticut Mold, we provide a comprehensive mold inspection and mold testing to target those indoors and outdoors where mold likes to thrive.
Outside Mold
Why is it important to know how much mold is outside your New Canaan home? Mold can accumulate on the siding, brick, or fascia of your home, permeating the very foundation of the building. Also, certain molds grow in soil, and when there's an excess of rain or snow, the runoff can flood your basement, bringing mold along with it. The excess water from outside can seep up from under your house's base, causing puddles on your floor. Mold spores love water puddles and dark spaces, so this is an ideal environment for mold to sneak into your house from the outside. At Connecticut Mold, we want to know the amount of mold outside your home to ensure it doesn't find its way inside your house.
Mold Issues
Mold can adhere to various surfaces, and when it finds a porous surface like wood, it can permeate the wood. Over time, the wood begins to rot, and if enough damage occurs, it can threaten the integrity of your home. By investing in a mold inspection, you are investing in the health of your home. Mold can slowly deteriorate your home's foundation, but it can also cause health issues. Certain types of mold are allergens and can cause coughing, runny noses, and watery eyes in some people. Older people, small children, and those with health conditions may experience exacerbated symptoms, including respiratory issues and increased asthma attacks. During a comprehensive mold inspection, our certified mold technicians can find the source of the mold and help you comprise a plan to combat it.
Finding Mold
If you suspect your New Canaan home has acquired mold, you need to address it as soon as possible. The first step is to have a professional mold inspection team examine your home to deter colonization. At Connecticut Mold, we utilize the most advanced techniques and equipment to search behind drywall, under counters, HVAC units, basements, and above garages. We search for water sources where mold spores may take up residence, including water leaks and condensation areas. When the inspection is concluded, we will provide you with a detailed and comprehensive report showing mold hot spots and how to address them.
Mold Professionals
While there are many companies you can use to perform your New Canaan home's mold inspection, the experts at Connecticut Mold can offer years of experience, superior customer service, and cutting-edge technology. A mold inspection by a certified mold specialist can give you the peace of mind to know your home is free of mold so that you can breathe easier! We also have mold remediation services to keep you home healthy and mold free! Contact us to schedule your New Canaan home's mold inspection!