MOLD REMEDIATION IN WEST HARTFORD
Mold growth can hide virtually anywhere in your West Hartford home. You may have stumbled upon mold under your kitchen sink, behind your washing machine, or on the tiles of your bathtub. All mold spores need to colonize is moisture, and mold colonies start to grow when the two mix. While mold spores are natural in our air, elevated mold levels can be hazardous.
Mold can attach itself to virtually any surface, so when it latches on to a porous material like your kitchen cabinet, the drywall behind your washing machine, or the tile in your bathtub, it can start to cause decay. This decay happens quickly, too; mold grows in as little as a few days! When left unattended, the mold build-up will destroy its host, proving costly and time-consuming to fix. At Connecticut Mold, our certified mold professionals have equipped to battle your home's mold infiltration by utilizing the most advanced techniques. As an industry leader in the West Hartford area, Connecticut Mold's specialists can address your home's unique needs and return it to its pre-infestation beauty.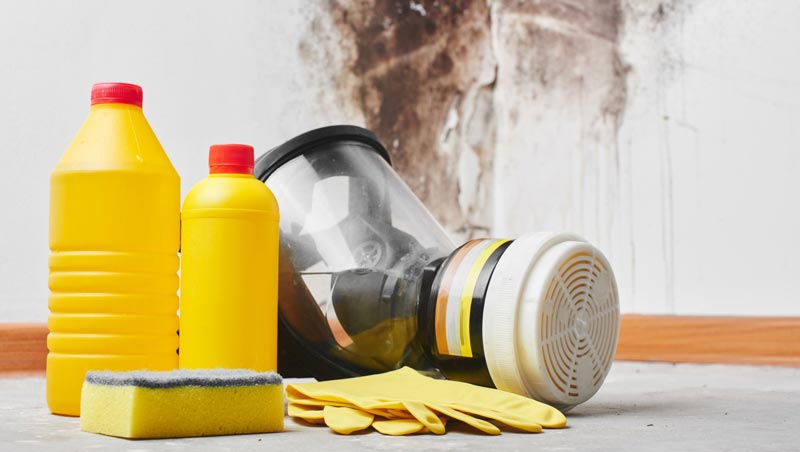 Why Professionals?
You may consider taking care of your mold problem yourself since it may be a small amount and not too tricky to clean. However, there are several drawbacks to addressing your mold issue by yourself. First, you may be able to clean up the mold you can see, but the mold you can't see may be causing massive destruction, slowly eating away at the house. The chemicals you use to clean may not kill all strains of mold, so it may disappear for a while only to grow back a few days later. If you attempt to remove the mold growth without the proper protective gear, you may risk your health and the health of others in the home.
When you try to scrub the mold from its host surface, the mold spores are disturbed and disbursed through the air, only to land in another area of your home, potentially starting the problem over again. This airborne mold can be ingested through the eyes, mouth, and nose or absorbed through the skin, causing harmful health issues. Too much mold in the home can trigger asthma attacks, produce allergy symptoms, and the results can be even more detrimental for those with compromised immune systems.
Instead, enlist the assistance of the mold pros at Connecticut Mold. Not only are we certified and trained to clean and remove mold, but we can also replace any materials that are too damaged to be saved. Once mold growth permeates a porous material like wood, it begins to rot. If it is not immediately cleaned, it will not be salvageable and must be replaced. Our technicians can carefully remove the damaged materials so that mold spores do not spread and then fix any materials that have been destroyed.
For the safety of our workers and your family, our technicians are outfitted in protective gear to prevent direct exposure to the mold source. Full hazmat suits, masks, gloves, safety goggles, and booties ensure mold is not absorbed through the skin, eyes, nose, or mouth and that it is not tracked throughout your home while we are working to remediate your home. An ultra-low volume fogger that sprays a fine antimicrobial mist to attach to airborne mold spores will weight down the mold spores so that they land on surfaces that can be cleaned or vacuumed. Once the damaged materials have been double bagged, removed from your West Hartford home, and discarded, the materials are replaced. These items may include new insulation in your attic, a new windowsill in your bathroom, or new carpeting in your basement. Wherever destruction has occurred, our job is to come in and replace what cannot be repaired. After the new materials have been installed, antimicrobial paint is applied to prevent future mold growth.
The End Goal
After the mold has been removed, decayed items have been discarded, and new materials have been installed, the goal is to return your home's mold levels to a natural level. Our technicians will return after completing the process to take indoor and outdoor mold samples to achieve this goal. Surface samples from various rooms in your house will also be tested, and we will collect airborne mold samples from indoors and outdoors to be measured against one another.
The airborne and surface samples should show a vast decrease in mold levels, and areas where mold colonies previously formed are checked to ensure they have not returned. At Connecticut Mold, mold remediation services are our specialty, and we strive to finish the project to your complete satisfaction. When you need mold services for your West Hartford home, contact the professionals at Connecticut Mold. Schedule a free consultation for all kinds of mold services like mold removal, mold assessment, mold testing, mold inspection and dehumidification in West Hartford!