MOLD REMOVAL IN TRUMBULL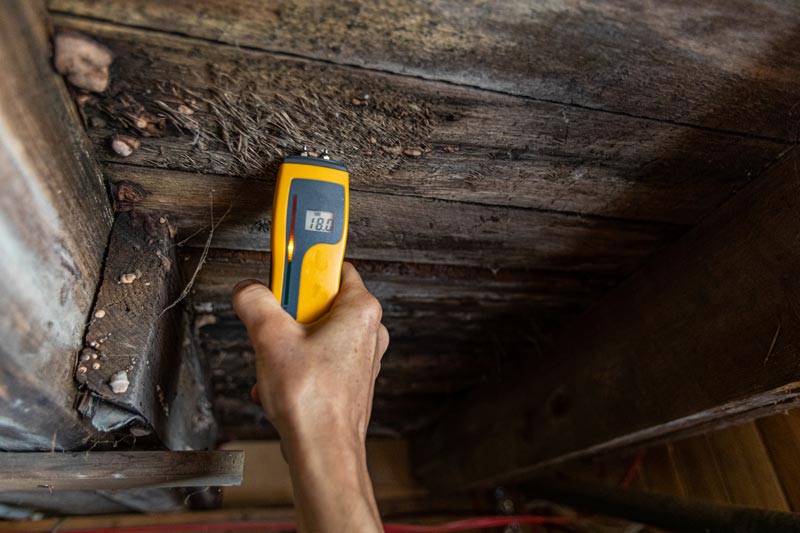 Considering the Northeastern weather and proximity to sea air, the buildings in Trumbull are no stranger to indoor mold growth. While mold is everywhere in our ecosystem, having mold growing inside your home is not healthy and can damage your home's structure. Often, you can see mold, and you can plan to have it removed. However, hidden mold is the true culprit. Since you can't see the mold, you may not even know it is there, hiding behind walls, lurking in your air conditioning unit, or multiplying in your attic's insulation.
A professional mold inspection can help determine if you have mold in your home and, more importantly, where it may be hiding. Wherever the mold may be, it must be removed so it does not cause prolonged health issues, and the damage to your home is contained. At Connecticut Mold, we provide these services. Our technicians are specially trained to locate and safely remove build-up from your Trumbull home or office building. Remember, it is vital to take care of the problem; don't wait and let the mold spread. Time is not your friend in this scenario, as unattended mold can be costly to your health and wallet.
Safely Removal Mold
Mold can be a tricky customer—it's constantly searching for a moisture source so it can colonize and grow. The first step to any mold process is finding the water source so it can be fixed or stopped. If the water source is not addressed, the mold will return, no matter how you clean it. While you should have all mold removed, you may want to have the mold tested to determine which kind it is. Like the Stachybotrys and Chaetomium strains, certain molds fall into black mold. These common mold types, generally introduced into a home through a wet carpet, walls, or paper, release mycotoxins into the air. These toxins can substantially affect the health of those living in the house and even those who remove the mold.
Toxic molds can lead to cognitive issues, respiratory ailments, and long-term health problems, so these toxins should be removed expediently. To effectively remove mold from an infected area, our experts will encase the regions with active mold growth. Using plastic sheeting barriers, the mold can be contained and not spread to other spots in the home. Air conditioning units, fans, and heaters are turned off to discourage mold spores from becoming airborne and finding a new host. Instead, we use air scrubbers, negative air machines, and HEPA air-filtered vacuums to clean the air and the infected rooms. Any areas that may still be wet are dried using industrial-sized fans and dehumidifiers. Deodorizers can be used to remove any lingering odors and to make your home feel fresh again.
Once the mold has been scraped and removed, our technicians apply antimicrobial and antifungal encapsulates to discourage mold from returning. To safeguard our mold technicians from harm during the removal process, they are equipped with protective gear to ensure they are completely covered. Masks and goggles protect them from inhaling or absorbing mold and chemicals through the mouth, nose, and eyes. Protective clothing also restricts the likelihood that they will track mold spores throughout your home during the clean-up process.
During the clean-up, any materials that are too damaged are professionally removed from the building. These items are treated like any other toxic substances—they are double bagged, sealed, and discarded. Any equipment that we reuse is thoroughly disinfected, and any items that can be disposed of are treated as hazardous materials. A final inspection is completed to ensure that we have not missed any mold colonies and that the clean-up process is complete. Our technicians will provide you with tips and strategies to guard against mold growth returning, including moisture control and regular home inspections.
Professional Services
You may see advertisements for quick, easy, DIY mold removal, but it is best left to the professionals like any delicate process. Mold removal is messy, time-consuming, and hazardous to your health. If not done correctly, you may be contaminating your entire home with mold spores. Plus, mold removal is a painstaking process, and you may inadvertently miss some of the molds. At Connecticut Mold, we specialize in mold services, including testing, inspection, removal, and remediation. Our technicians are highly trained to safely and efficiently remove mold and minimize damage to your property during its removal. Most importantly, you will have peace of mind knowing that mold will not return and the air is fresh and clean.
Do you have questions about mold in your Trumbull home? Contact the qualified, experienced, licensed experts at Connecticut Mold—we're happy to answer any questions you may have and help you with solutions. Additionally, don't forget to ask about other mold services such as mold assessment, mold testing, mold inspection, mold remediation and dehumidification in Trumbull!