Trust Our Professional Trumbull Attic Mold Removal Services
We understand how frustrating it can be if you have mold in your home in Trumbull, Connecticut. We are Connecticut Mold, and it would be our pleasure to walk you through the mold removal process from start to finish. The attic is one of the most common places where mold likes to hide. You may not realize how much mold is in your attic, particularly if you do not go up there very often. Regardless, it is crucial for you to address this issue as quickly as possible, and that is where we can help you.
At Connecticut Mold, we have developed a sterling reputation throughout the local area because we always put the needs of our customers first. It would be our pleasure to come to your home, do a comprehensive evaluation, and see if any mold is hiding in your Trumbull attic. Please take a look at our services below, and give us a call to schedule an appointment.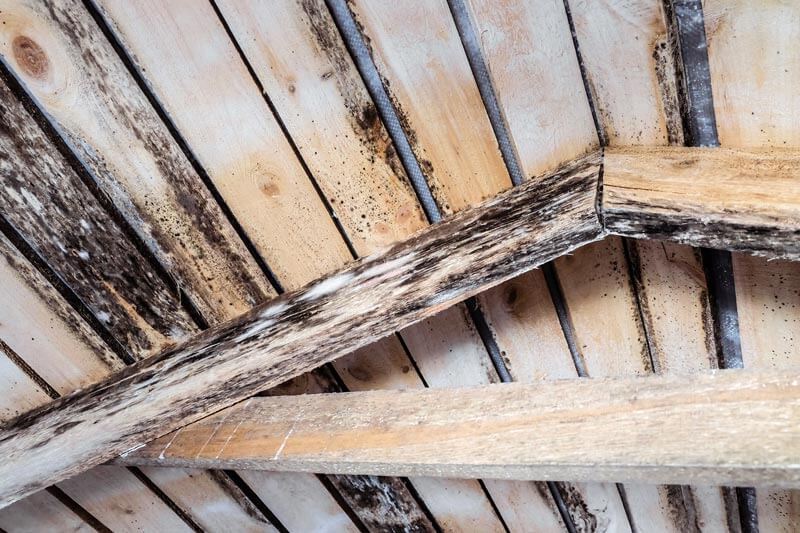 An Introduction To Attic Mold
If you have fungus hiding in your attic, there is a good chance you have mold. Your attic is a humid, warm environment. Those are the two ingredients that are required for mold to grow. Even though you might not go into your attic very often, it is essential for you not to ignore the mold that you have up there. It could spread to other parts of your home if you do not skim it. It could also threaten the health and safety of your friends and family members.
If you partner with a professional team, such as Connecticut Mold, you can get rid of the mold as quickly as possible. It would be our pleasure to help you identify and remove any mold that you might have in your Trumbull, Connecticut, attic.
Common Causes of Attic Mold
Many homeowners are wondering why they have mold in their homes at all. There are plenty of reasons why you might have mold growing in this location. Some of the most common causes include:
There might be a leak somewhere in the roof, creating a very wet environment conducive to mold growth.
You might have a pipe that has burst recently, adding a lot of extra water to the environment. This can fuel the growth of mold.
Much extra insulation in the attic can trap heat in that location, leading to mold growth.
Regardless of why you might have mold in your attic, you need to remove it as quickly as possible. Our team can help you with that.
The Signs of Trumbull Attic Mold To Watch For
Before successfully removing the mold from your attic in Trumbull, we need to figure out where it is hiding. There are several signs that you should watch for. They include:
If you have stains on the walls of your attic that were not there before, it could be a sign that you have mold growing in that area.
You might notice that your boxes are changing color, which could be a sign that mold is growing on top of them.
If you notice a musty odor or smell coming from your attic, it could be a sign that you have mold in the area.
If you are coughing and sneezing a lot, it might indicate mold is present.
If the floors appear to be a bit this color, you might have mold.
If you notice any of these signs, you need to respond as quickly as possible. You need to remove the mold before it gets out of hand.
Where Mold Tends To Hide in the Attic
People are wondering where mold tends to hide. The reality is that it can hide just about anywhere, but there are a few common locations where it shows up. If you have pipes in your attic, that is an excellent place to start. Remember that mold likes wet areas, and pipes are wet.
Then, you might want to take a closer look at the floors, particularly underneath boxes and bookcases. You may also want to look behind bookcases for the presence of mold. It will be dark up there, so you need to have a flashlight. It is important not to get too close, as mold can be a significant health and safety hazard.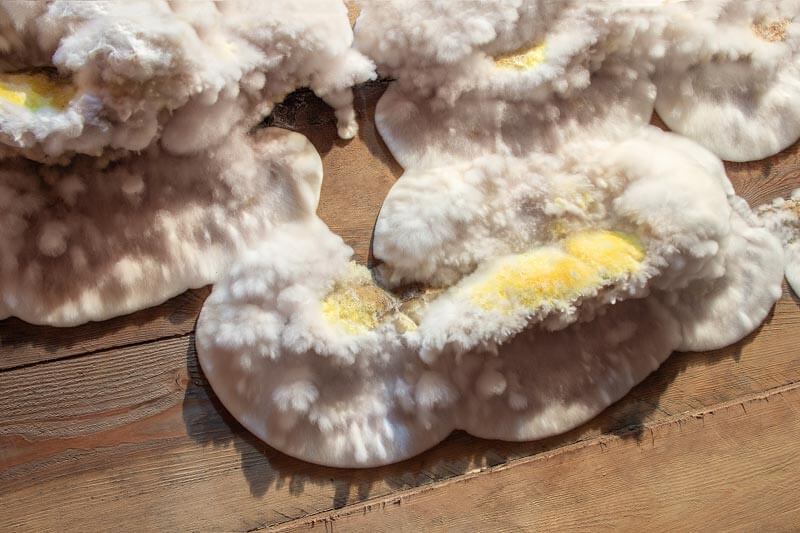 Identifying Attic Mold
It is crucial to correctly identify the mold in your attic to ensure we can use the proper cleaning solution. There are two common types of mold that we see in the attic. They include Stachybotrys and chaetomium. Once we have identified the kind of mold in your attic, we can formulate a comprehensive response. That way, we can remove it on the first attempt.
Trust Connecticut Mold for Trumbull, CT Attic Mold Removal Services
At Connecticut Mold, we have an unparalleled level of experience dealing with different types of mold, and we can lean on that experience to help you. We will let you know precisely what needs to happen to remove mold from your attic, and we will be with you every step. Allow us to protect the health and safety of your family. Contact us today to make an appointment.
Also remember us for mold removal services in Trumbull. We offer dehumidification, mold assessment, mold inspection, mold testing and mold remediation for your home or office!