Our Professional Team Can Help You Remove Mold From Your Shelton Attic
If you own a home in the local Shelton, Connecticut area, you must ensure you take care of it. That means paying attention to potential mold growth. We are Connecticut Mold and work with homeowners in the local area to help them remove mold from their attics. Now, we can help you as well.
Many people live in Shelton who believe that mold is only something that shows up during specific times of the year. In reality, mold can show up when you least expect it and can show up at just about any time. Learn more about how we can help you remove mold from your Shelton attic, and do not forget to give us a call for a comprehensive attic mold evaluation.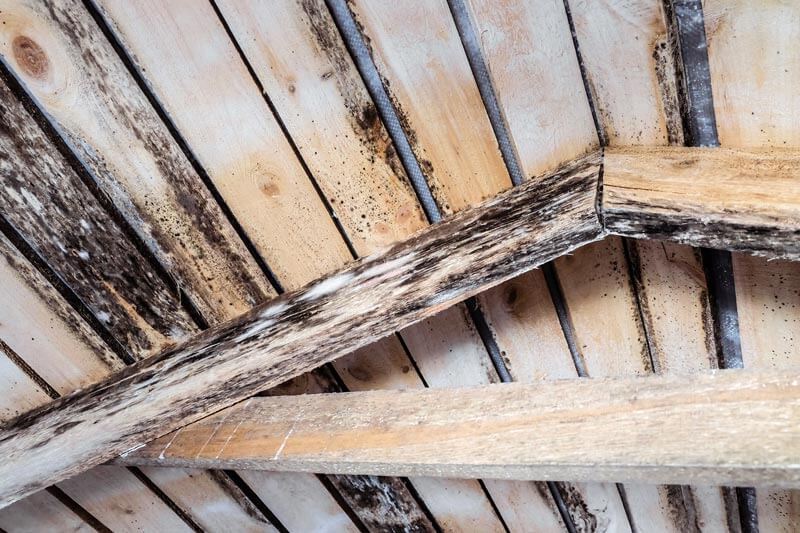 A Brief Overview of Attic Mold
Mold is a fungus, and it can grow just about anywhere. Mold requires two ingredients to grow well. They are warmth and humidity. If you live in Shelton, Connecticut, you understand just how humid it can be. Furthermore, with many homes being built using energy-efficient methods, your home has probably become very good at keeping heat where it belongs. At the same time, this means that you could have a lot more heat in your attic than you usually do. As a result, you might have mold thriving in your attic. If you need a professional team to help you eliminate it, count on Connecticut Mold.
The Top Reasons You Might Have Mold in Your Attic
There are plenty of reasons why you might have mold growing in your attic, but some of the most common causes include the following:
If there is a pipe that recently burst on your roof, you could have extra water in your attic. As a result, mold could thrive.
If your roof leaks, you could have mold growing on the ceiling of your attic. Looking closely at your attic, you may spot blue, green, or black growths.
You might have also put something in your attic that already had mold. Then, it may have continued to spread.
If you made energy-efficient upgrades to your home, you might trap warmth in your attic, leading to mold growth.
If you need a professional team to help address these issues, count on Connecticut Mold.
Common Signs of Attic Mold
Several signs could indicate that you have mold in your attic. Some of the most common symptoms include:
You may spot all areas of discoloration in your attic, particularly on the walls and ceiling.
If you look at any boxes of books you might have, you might spot mold growing in them.
If you shift old furniture out of the way, you might spot mold growing underneath them.
You need to pay close attention to your pipes and air vents. These are some of the most common locations where mold likes to grow.
At Connecticut Mold, we have the training and experience necessary to identify mold that you might have in your attic. If you believe it is present, you need to respond as quickly as possible. We can help you identify and get rid of mold in your attic.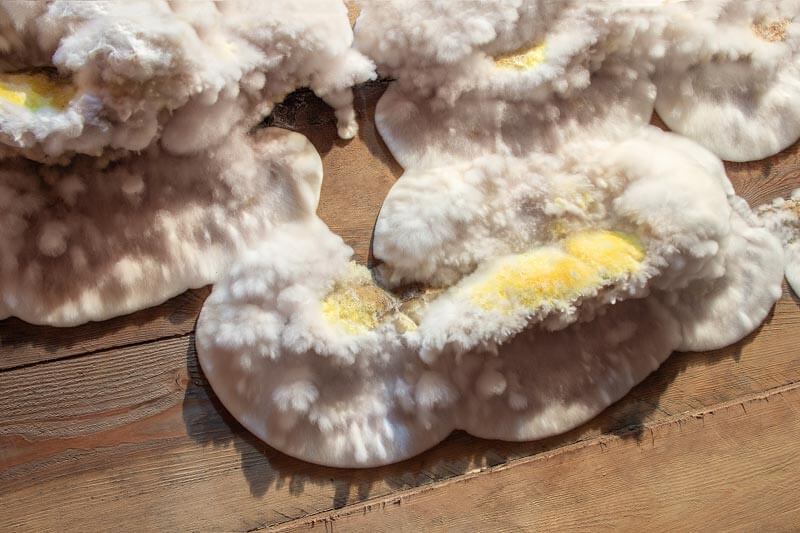 Where Mold Tends To Hide
When you enter your attic, you might notice you coughing and sneezing more often. This is another sign that you might have mold present. Even though it can be challenging to spot mold in your attic, as long as you have a flashlight, you will have an easier time doing so. You might feel like turning over every item in your attic to identify mold that might be present; however, it is better to rely on the experts to help you. You don't want to increase your chances of getting sick if you inhale spores.
Identifying Mold in Your Attic
Before we can get to work removing the mold in your attic, we need to figure out what is present. We will use the best equipment in the industry to test for mold throughout the attic. We spot several common types of mold in Shelton, Connecticut. They include Stachybotrys and chaetomium.
After we identify the mold in your attic, we will explain the strategy we will use to get rid of it. Then, we will test your attic again to ensure all the mold has been removed. Our goal is to make sure we keep your friends and family members safe, so rely on the team from Connecticut Mold to help you.
Call Connecticut Mold for Shelton Attic Mold Removal Services
Our team is available to assist you if you are looking for help with attic mold removal services in Shelton, Connecticut. We are Connecticut Mold, and we consistently put the needs of our customers first. We have already worked with countless homeowners throughout the area, and we would also be happy to work with you. By removing mold from your attic, we protect the people who live in your house and preserve the value of your property. Contact us today to schedule an appointment with a member of our team.
Also remember us for mold removal services in Shelton. We offer dehumidification, mold assessment, mold inspection, mold testing and mold remediation for your home or office!