If you live in the Milford area, you know just how hot and humid it can get, particularly during the summer. Therefore, you might realize that you have mold growing in your home. Even though you may feel like this is something you can handle on your own, it is better to trust a professional to help you. That is where our team comes in.
We are Connecticut Mold, and we have the proper training and experience necessary to help you remove mold from your Milford home. Many people believe mold is seasonal, but that is not the case. It can show up any time of the year, so you need to rely on us to help you. Learn more about our mold remediation services below, and give us a call to make an appointment.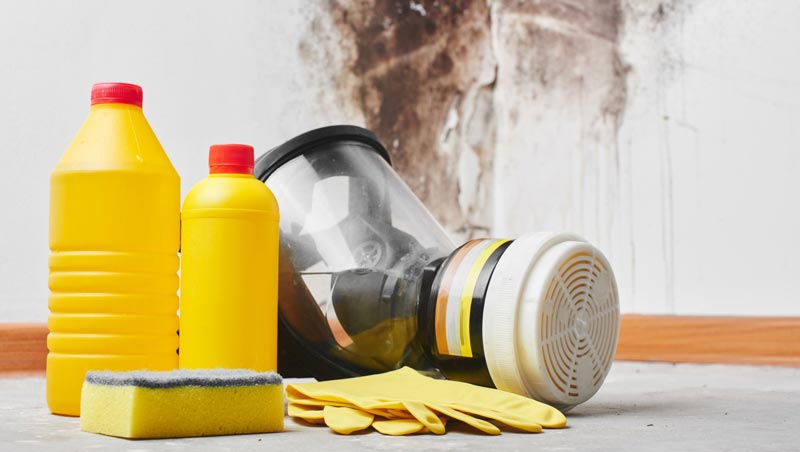 Why You Might Have Mold Growing in Your Milford Home
First, you might wonder why your home had mold growing. There are several reasons why that might be the case. They include:
It is probably hot and humid in your house if it is scorching and humid in the local area. It is straightforward for mold to grow in your home.
If you have recently experienced a flood, such as a severe storm, you may have mold growing in your house. Moisture can make it easier for mold to grow.
You might be unaware of a leak somewhere in your house. For example, you might leak one of your sinks. Or, you might leak into your roof. Regardless, you need to rely on us to help you get rid of the mold before it can spread to other areas.
These are just a few of the most common reasons you might have mold growing in your house. It is essential for you not to delay the remediation process. Call Connecticut Mold today to help you eliminate the mold in your home.
How Our Mold Remediation Services Work
If you decide to reach out to us for mold remediation services in Milford, there are a few expectations you should have. They include:
When we arrive at your house, you should expect it to have all the proper safety equipment. We must ensure that we do not let mold spread to other areas of your home.
Then, you should expect us to use various devices to get rid of the mold in your house. We might use chemical biocides, air purifiers, and UV lamps. All these tools are essential to ensure we do not leave anything behind.
You can expect us to give you a comprehensive brief on the different types of mold that we may have found in your house. For example, you may have black mold present, such as Stachybotrys. Or, you might have fuzzy, green mold present, which is Chaetomium. You should expect us to be able to take care of all of it.
Finally, you should expect us to pay close attention to your air quality. We will use HEPA air filters to ensure that we get rid of the spores in the air.
It would be our pleasure to get rid of any mold that you have present in your house.
Why You Should Trust Us
At Connecticut Mold, we understand that you have options if you are looking for someone to help you get rid of the mold in your house. Some of the reasons why you should trust us to include:
We have more than 30 years of experience in the field and will use it to get rid of the mold in your house.
Our team has worked with homeowners of all shapes and sizes, so we would also be happy to work with you.
We have a wide variety of glowing reviews on numerous third-party websites.
All our technicians are properly licensed and insured, giving you the protection you need.
If you want someone to help you with Milford mold remediation, rely on Connecticut Mold.
Call Connecticut Mold for Milford Mold Remediation Today
At Connecticut Mold, we are always available to help you. We know that you need to get rid of the mold in your house as quickly as possible, so we will do everything we can to fit you into our schedule. We have the training, equipment, and experience necessary to complete the job on the first attempt. Therefore, give us a call today to schedule an appointment and get rid of the mold in your house. Also don't hesitate to ask for all kinds of mold services like mold removal, mold assessment, mold testing, mold inspection and dehumidification in Milford!