MOLD TESTING IN TRUMBULL
It happens in the cleanest of homes and businesses—pesky mold patches. Water has permeated the building due to a heavy rainstorm, excess snow, or something as simple as a leaky pipe, causing mold growth. Even brand-new homes can be subject to this nasty intruder, and since mold inspections are generally not included in new home inspections, mold growth might easily be missed.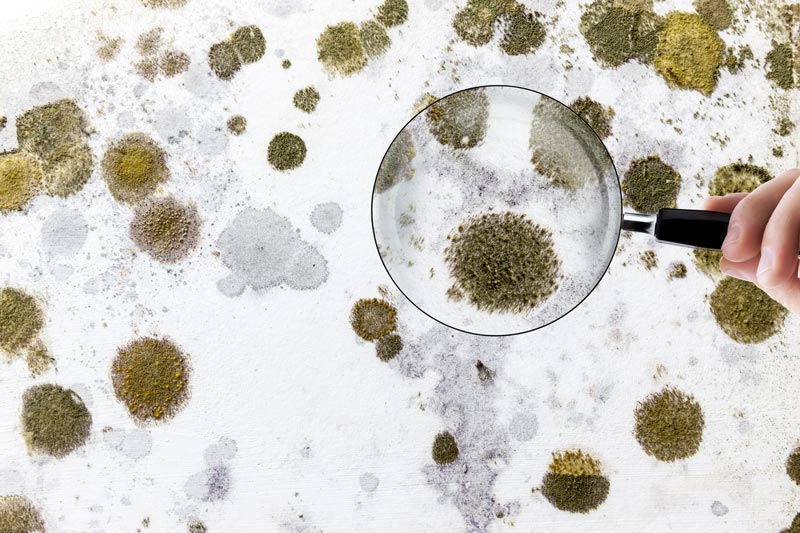 With over 100,000 different types of mold species, you may have mold and not even recognize it if you see it! At Connecticut Mold, that's all we do—focus on mold. When water and mold mix, they produce colonies of mold that attach to your structure's materials, causing decay and health concerns.
Mold can increase, and when not caught soon enough, it can destroy building materials and contribute to dry rot. Many allergy symptoms are associated with mold, including runny noses, watery eyes, pronounced coughs, and respiratory problems. Our certified mold specialists can find the moisture source that's helping the colony grow, determine the location and type of mold your home is harboring and formulate a plan to eliminate the hazards associated with mold growth.
Since mold can be hiding anywhere in your home or commercial office building, it is vitally important to contact a professional if you suspect you have mold growth. If you are unsure if you have mold or think there may be hidden mold in the building, Connecticut Mold can help. In addition to finding hidden mold, we can also classify the type of mold growing in your Trumbull home or office. Why is this important? Certain molds are categorized as "toxic molds," also known as "black molds," that can potentially harm your health.
Two such common types of black mold are Stachybotrys and Chaetomium, which are known to secrete mycotoxins into the air. Over time, mycotoxins can cause neurological damage and respiratory issues and, in extreme cases, cause death. People with underlying health issues, pregnant women, older people, and small children are especially susceptible to health concerns when dealing with toxic molds.
Mold Testing Process
Our technicians use the most advanced methods and equipment, including moisture meters, to properly test the mold growth to find water sources. We take air samples inside your home in various rooms to test mold levels and measure them against outdoor mold levels.
Surface tests are also performed to indicate if mold has permeated wood, fabric, and other materials in your home. Then both types of samples are sent to a laboratory for analysis. In addition to determining the genus of the mold spores, this information will help the technician gauge the severity of the mold's growth. Learning the type of mold plaguing your dwelling can also help our technicians understand the potential risks associated with the particular mold variation.
At Connecticut Mold, our professional mold testing service can provide you with the most accurate and precise readings and results, so there is no guesswork. While you may consider investing in a do-it-yourself mold kit, it isn't worth the risk to your health. Mold sampling should be left to the professionals because without the proper safety gear, you could be disturbing a mold colony and launching the spores into your home's air.
Not only can you ingest these new airborne spores, but they can seek out other areas of your home to colonize, compounding your problem. At Connecticut Mold, our specialized technicians take every precaution when collecting the mold samples and are outfitted in the proper protective gear. Taking these extra steps ensures the safety of our workers and the health of your family members who live in the home.
Testing Benefits
Your family's health is the most significant concern when encountering mold. By determining the strain of molds growing in your home, the technicians at Connecticut Mold can help you build a plan to eliminate its growth and substantially improve your home's air quality. Additionally, you will want to eradicate the mold before it begins structurally damaging your Trumbull home. The sooner you find the mold and work to remove it, the more time and money you will save.
Contact Connecticut Mold!
In addition to finding and testing mold spores, we want to help you learn how to stop the mold before it begins to grow. Some tips to discourage mold growth in your Trumbull home include:
Installing exhaust fans in all the bathrooms.
Cleaning your A/C system, so mold does not grow in the ductworks.
Providing proper ventilation to discourage excess humidity.
Regularly inspect your home for possible water intrusions.
If you are buying or selling a property or your home has suffered from water damage, you should invest in a professional mold inspection and testing service. Book an appointment or call us today at Connecticut Mold—we're ready to help! We also offer mold removal, mold assessment, mold inspection, mold remediation and dehumidification services in Trumbull!