Mold Inspection
Mold can grow in just about any location and can show up at any time of the year. Therefore, you need to inspect your Ridgefield, Connecticut home from time to time. We are Connecticut Mold and have provided mold inspections throughout the local area for decades.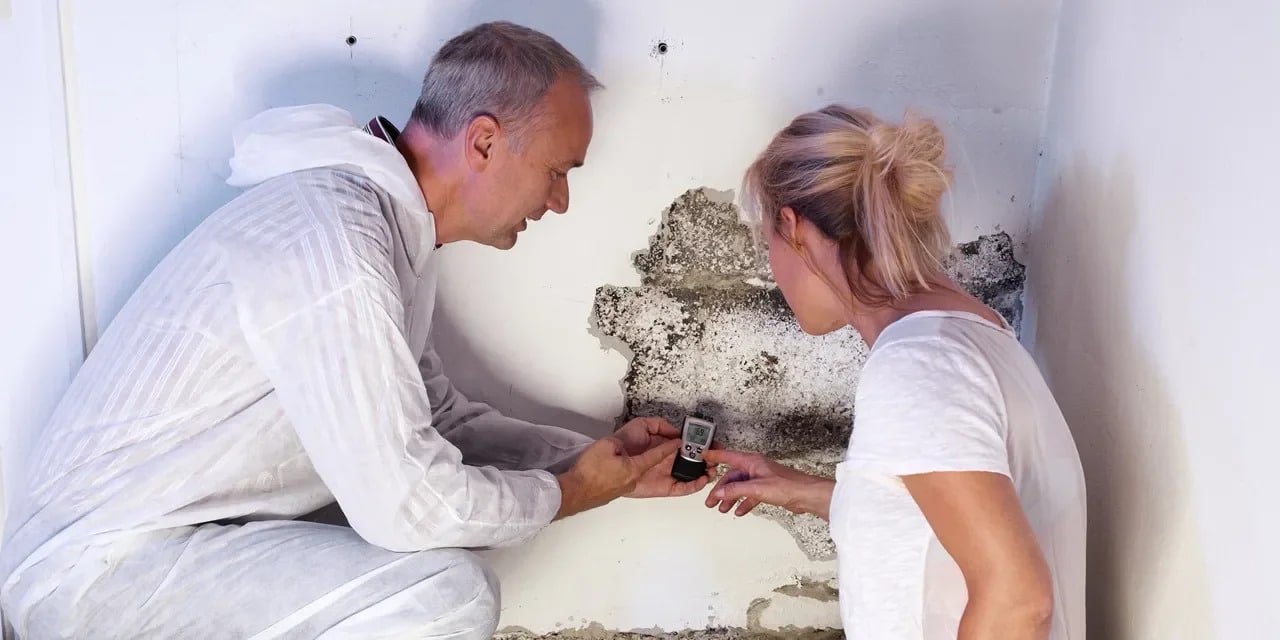 The sooner you detect mold in your home, the faster you can get rid of it. Mold can be tough to find, so you need to rely on our professional team to help you. Learn more about our inspection services below, and give us a call today to schedule an appointment for mold inspection service in Ridgefield, CT with a member of our team.
Why Does Mold Grow?
In general, mold requires two conditions to grow well. It needs hot temperatures, and it needs access to a wet environment. If both of these conditions are present anywhere in your home, mold can increase and spread quickly. There are several reasons why you might have mold in your Ridgefield home, and some of the most common causes include:
You may leak into your room somewhere, which causes water to sneak through your home.
You may have an appliance leaking water somewhere in your home, such as your refrigerator or washing machine.
A crack in your foundation might make it easier for humid conditions to get into your home.
There may have been a flood in the area recently, making mold easier to grow in the local area.
If you are concerned that you have mold in your home, you need to contact a professional team that can conduct a comprehensive inspection. At Connecticut Mold, we can help you do exactly that.
Why You Need To Act Fast
You might not be able to see the mold in your home, but you need to respond as quickly as possible if you want to get rid of it. The longer you let the mold sit in your house, the harder it will be to remove all of it.
The most important reason you need to get rid of mold from your home is to protect your health and your family's health. Severe health conditions can develop if you allow mold to grow in your home.
In particular, people who suffer from asthma and allergies are at significant risk of developing major health problems. The same is true of people who suffer from chronic respiratory conditions, such as COPD.
Two of the most common types of mold we encounter include Stachybotrys and Chaetomium. Stachybotrys is commonly called black mold, and it can lead to significant health concerns. Chaetomium has a blue-green, fuzzy appearance, and it can also cause respiratory irritation.
We provide access to a professional team that can help you quickly and efficiently identifies mold in your home.
What To Expect From a Mold Inspection
During our mold inspection service in Ridgefield, CT, several tasks will take place. First, our team will show up at your house in full protective gear. Our technicians need to protect themselves and your family.
Then, we will collect air samples from your home. We will use this information to figure out how much mold you have in your home, and we might also be able to identify the type of mold present in your home.
Our team will also take direct swabs from your home's HVAC unit, cabinets, appliances, and other areas. Once we have figured out where the mold is located and how much mold is located, we will provide you with a list of recommendations. We will also allow you to ask questions. That way, you can figure out how you want to address the problem.
The best way to deal with mold in your home is to get rid of it as quickly as possible. We can present you with a plan of action, and we will restore your home to its original, safe form. Rely on our comprehensive inspection to get the process started. It would be our pleasure to assist you with a mold inspection of your Ridgefield home.
Trust Connecticut Mold for Your Mold Inspection Service in Ridgefield, CT
If you believe you have mold present in your home, this is not a problem you can put off. You must remove the mold as quickly as possible before the problem gets worse.
At Connecticut Mold, we have more than three decades of experience in the field, and our technicians are properly licensed and insured. Contact us today to schedule a mold inspection of your Ridgefield home. We look forward to helping you.
Feel free to contact us for more information regarding additional mold services like mold removal, mold assessment, mold testing, mold remediation and dehumidification in Ridgefield!
To get started with exceptional mold inspection services Ridgefield, CT depends on, give us a call today!