Mold Inspection in New Canaan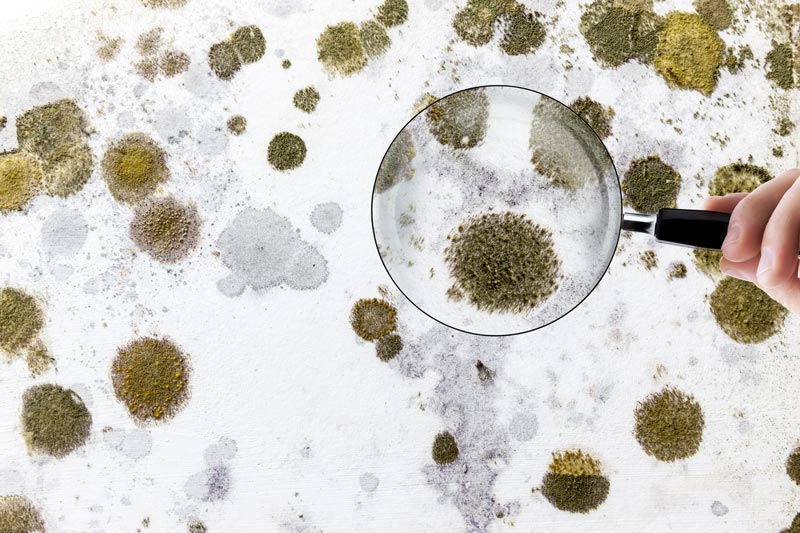 Have you ever gone on a medical website and diagnosed yourself with an ailment only to learn you were utterly wrong in your assessment? You would see a professional specially trained in medical conditions and treatments to get an accurate diagnosis. The same is true of mold testing; you might be perfectly capable of testing for mold, but a certified mold professional can provide you with all the answers you need regarding the status of your New Canaan home's health. Several home improvement stores sell do-it-yourself mold kits, which can tell you if your home has mold, but these tests tell you nothing else. What type of mold do you have, and most importantly, where is it located? Why have just one piece of the puzzle when you can have the whole picture? At Connecticut Mold, we specialize in thorough mold evaluations, so you know precisely the type of mold, how much mold, and where the mold is located in your New Canaan home.
Seeing Mold
There's a possibility that you can already see mold in your house, so you may not believe you need a mold evaluation. The opposite is true. If you have found mold in your New Canaan home, the likelihood of having mold you can't see is very high. Hidden mold can often be more detrimental to your home's integrity than the visual patches of mold. The hidden mold may have been there for an undetermined amount of time and could be slowly eating away at the structure of your home. Since mold can grow on almost any surface, it could be in your air conditioning and heating unit, expanding on your house's fascia, or lurking behind the walls—and you may never know it until significant damage is done! A mold test can find that hidden mold, and our certified technicians can help put together a plan of attack.
If you have already spotted mold, you may want to remove it yourself. While bleach and other disinfectants may remove mold from some surfaces, it can penetrate wood, carpet, and insulation and require extensive measures. Unfortunately, you won't know if you removed all the mold when you clean, and it will return are high. While cleaning or administering a do-it-yourself mold test, you can often disturb mold spores and launch them into your home's air! At Connecticut Mold, we can gently and effectively take the air and surface samples and not disrupt the spores.
Health Concerns
While structural damage from mold is a genuine concern, it's not the worst result of a mold infestation. Certain types of mold give off toxins, affecting the indoor air quality, which can make you and your family very sick. While not all types of mold contain toxins, most of them are allergens and can cause coughing, headaches, runny noses, asthma attacks, and other respiratory issues. When our technicians conduct a mold test, we start with a visual inspection, giving special attention to areas where mold may grow, like kitchens, bathrooms, and mudrooms. Samples are obtained from both the air and household surfaces. Both air and surface samples are necessary because mold spores float in the air and land and grow on surfaces. These samples are thoroughly examined in an independent laboratory, and all results are shared with you, including the genus of mold and its toxicity level. Our helpful certified mold technicians will then review the results with you and explain their findings. We aim to make the process simple, seamless, and informative.
Selling Your Home?
In today's hot housing market, you may be considering selling or renting your New Canaan home. A pro-active mold test can assure potential buyers or renters that your home is free from unwanted mold and water damage. A mold-free home in excellent shape can garner top dollar, so a mold test can give you peace of mind and help you earn more money for your home. If you decide to stay in your New Canaan home, having the peace of mind that it has been thoroughly inspected for mold is well worth the time and cost. Connecticut Mold is an established leader in the mold industry, and we understand that your home may be your biggest asset, so we are dedicated to helping you keep it safe and clean. You can trust our years of experience and expertise when your New Canaan home needs a certified mold evaluation.
Quality You Can Trust
At Connecticut Mold, we are the mold experts. Our technicians are thoroughly and thoughtfully trained to ensure your experience with our company is a productive and pleasant one. Our expertise in the industry, coupled with the latest technology, science, and equipment, make Connecticut Mold the obvious choice for your New Canaan home's mold testing. Contact us today for additional information on our wide range of services like mold removal, mold assessment, mold inspection, mold remediation and dehumidification!