Mold Remediation In Wilton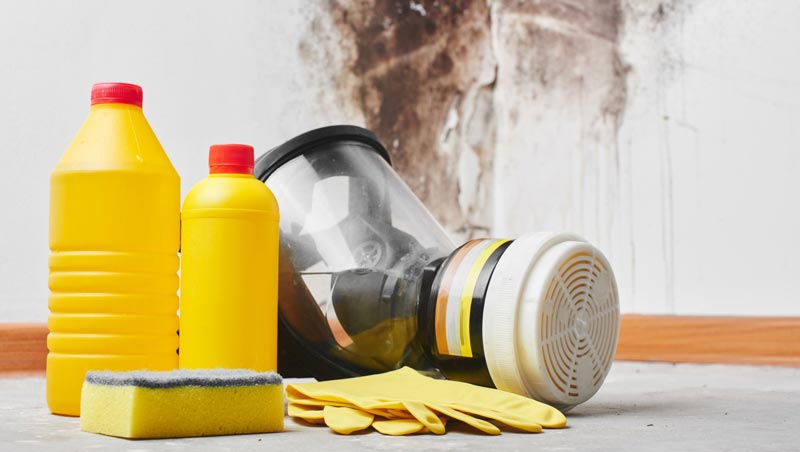 When water infiltrates your Wilton home, it invites mold to grow. When the mold latches on to your home's materials, it can cause health issues and rot the very foundation of the dwelling. If you suspect that your home has been invaded by mold, don't waste precious time; contact the specialists at Connecticut Mold. When searching for a company to perform mold remediation on your home, quality and experience count. At Connecticut Mold, our technicians are skilled and specially trained to tackle any mold issue you may encounter.
Since mold isn't always visible to the naked eye, it can cause damage even without your knowledge, and although mold is a critical element of nature, the presence of any mold growth in your home is problematic. When left too long, mold will methodically eat away at the materials that form your house, from baseboards and drywall to insulation and carpeting. If these materials become damaged, they cannot be saved; they must be remediated and replaced.
Remediation Process
At Connecticut Mold, we understand that mold remediation is very delicate and time-consuming. The mold has already infiltrated any porous materials it can find, chewing away at your home, so the mold must be removed and any damaged materials replaced. While this may seem relatively straightforward, it can be pretty involved and best left to the professionals. Damaged materials must be extracted from your home, but the area must be cleaned and disinfected.
When performing mold remediation, our technicians are thoroughly protected from mold spores and harsh chemicals by full-body safety gear, including high-filtration masks, goggles, safety gloves, and hazmat suits. We also protect your family by sectioning off the home area with the mold so we can limit any cross-contamination. Protective plastic sheeting secured with duct tape is used to contain the mold in an isolated area, if at all possible. Contaminated, damaged materials are double bagged for safety and then conscientiously removed.
The mold left behind is scraped and scoured, and the airborne spores are vacuumed with professional High-Efficiency Particulate Air (HEPA) equipment and air scrubbers. HEPA filters can capture tiny particles like mold spores; using anything other than a HEPA device will only introduce the mold spores back into the air. Once the air has been thoroughly remediated and cleaned, antimicrobial chemicals are applied to areas previously infected with mold. Then a sealant is used to ensure the site is waterproof. This last step will discourage the mold from reappearing.
Sick House Syndrome
When a house doesn't get enough ventilation, retains dirty air, and has unsightly mold patches, it can be considered a "sick house." The mold, dust, tobacco smoke, and other pollutants that build up inside can contribute to health issues in the home's inhabitants. However, you can take steps to ensure your home stays clean and healthy. Ventilation is essential to circulate the air in the house. The use of fans and windows opening can move air about so it doesn't become stagnant. Also, have your air conditioner and heating unit and air ducts cleaned regularly.
Dust and mold can collect in these areas, and when the unit is switched on, the dirt, dust, and mold spores are sent throughout the home. You can smell the musty stench of uncirculated air and mold when you turn on your heating unit for the first time in winter. Lastly, check your home thoroughly for any signs of water accumulation to prevent mold from colonizing. If you are unsure how or unable to detect hidden mold, you can enlist the help of a mold inspection company. Remember, a "sick house" can produce sick people, with mold being a significant factor.
Mold is an allergen and can affect everyone differently. Reactions to indoor molds and other pollutants can result in rashes, headaches, watery eyes, and respiratory issues. Prolonged exposure to the mycotoxins produced by black mold can result in immune deficiencies, memory impairment, certain cancers, and death in isolated incidents. If your Wilton home has reached the point of mold remediation, the situation is serious.
After Remediation
When Connecticut Mold technicians perform remediation services for your Wilton home, the process doesn't end when the last plank of wood is replaced. We want to guarantee your complete satisfaction. Our goal is to return your home's appearance to its pre-mold infestation state. We return to inspect your home to confirm that the mold has not returned and that the moisture problem has been fixed. At Connecticut Mold, we want you and your family to spend many happy, healthy years in your Wilton home. Contact us today if you have experienced mold growth in your home. Don't delay; mold moves fast, and so should you! Schedule an appointment here! Also, don't forget to ask about our additional mold services: dehumidification, mold assessment, mold removal, mold testing and mold inspection in Wilton!