MOLD INSPECTION IN TRUMBULL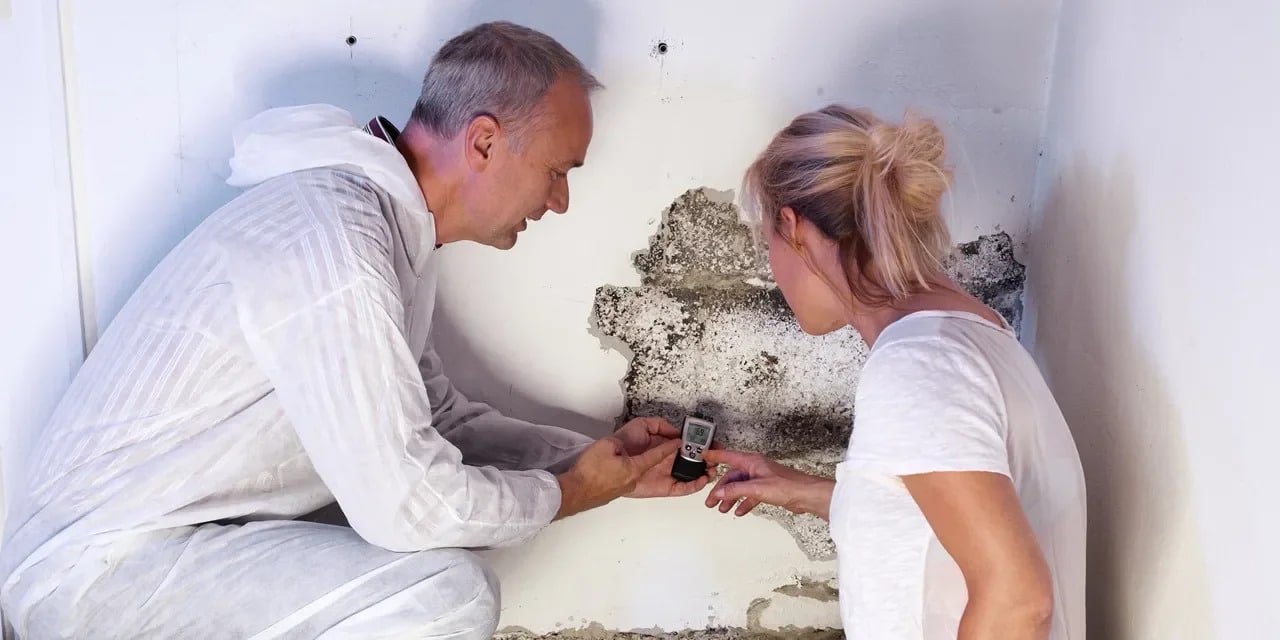 Trumbull is a beautiful city filled with stately homes and glorious oak trees. Like many other cities located just miles off the coastline, Trumbull harbors a dark secret—mold. The summer's humidity in the sea air and the snowy, rainy autumns and winters are the perfect places for indoor mold to flourish. While you may not know any mold growth in your Trumbull home, it could easily be colonizing and multiplying even without your knowledge! What can you do to combat this pesky invader? Enlist the assistance of the certified mold experts at Connecticut Mold. We can perform a thorough mold inspection to determine if mold has set up residence in your home.
Why Get an Inspection?
It's true; you can run down to the local hardware store and pick up a mold testing kit and perform your assessment. What the do-it-yourself kit won't tell you is the most important factor—where the mold is located. While it is easy to identify mold when you see it, what happens when you CAN'T see it? Mold can hide anywhere in your home, and a home mold testing kit won't determine where the mold may be hiding in your home. You may believe your home has mold due to a mildew smell, but it will continue to grow unless you locate the source. Also, since mold is in the air we breathe, a home mold test will likely garner a positive result. However, it won't tell you how much mold is too much more, nor will it tell you the type of mold your home is harboring. A professional inspection by a certified mold specialist at Connecticut Mold can provide you with all the answers you need and offer solutions to fight mold growth in your Trumbull home.
You may opt to have a professional mold inspection because you own an older home that may possess leaks or water damage that can lead to mold growth. Or possibly you recently purchased a new home or a home from someone else. Without a thorough mold inspection, you may be buying a prospective property with a mold issue that will be costly to fix in the long run. By utilizing state-of-the-art equipment and techniques, our mold specialists will provide an inspection to determine if the number of mold spores in the home is at an average level. If they are elevated, and mold growth is not visible, it could be hiding someplace in the house.
It is imperative to find the source of the moisture that is feeding the mold and helping it grow. It could be caused by a leaky roof, a burst pipe, a slow leak behind your refrigerator—any place where water and mold can meet and flourish. Areas behind walls, attics, and basements are ideal for mold growth since they are generally dark and dank—conditions conducive to mold growth. This mold, left untreated, can cause widespread structural damage to your Trumball home and threaten the health of your family members in the house.
Health Concerns
Have you or your family members experienced unexplained health issues, you may want to blame indoor mold growth. Certain molds like Chaetomium and Stachybotrys release mycotoxins, a toxic substance that can be ingested. These 'black mold' strains can cause various health problems, from respiratory ailments to cognitive and neurological issues. Other mold songs can exacerbate asthma and allergy attacks and cause headaches, bloody noses, and sore throats.
Those susceptible to auto-immune diseases or otherwise compromised immune systems can also experience illnesses due to mold exposure. During a certified mold inspection, we can take mold samples from surfaces and the air to disclose the type of mold in your home. These mold assessments can also indicate your indoor air quality to help you determine which steps to take to clear the air in your home.
Follow Up Inspections
If your home has suffered a water intrusion via leak or flood, you will want to make sure your home is inspected for mold right away. Mold can multiply quickly, so addressing the issue as soon as possible is key to curtailing its growth. After your home has been cleaned and is free of intrusive mold, it is ideal to have another inspection. If mold levels are still high, there is still a mold problem in the home. If the mold levels have returned to a natural state, you and your family can breathe easier.
Connecticut Mold
Our certified specialists are prepared to conduct your Trumbull home's mold inspection. A comprehensive mold inspection by the experts at Connecticut Mold can uncover those mold colonies, even the hidden ones. Trust Connecticut Mold to provide the very best in mold inspection.
Contact us for more information regarding additional mold services like mold removal, mold assessment, mold testing, mold remediation and dehumidification in Trumbull!