MOLD REMEDIATION IN EASTON
If you have discovered mold growth in your Easton home, you can attest to the damage it can cause. When mold and water combine, mold colonies form and those colonies start to destroy the host material. Since mold can grow on paper, carpet, fabric, drywall, insulation, and various other materials, and it multiplies quickly, early detection is vital.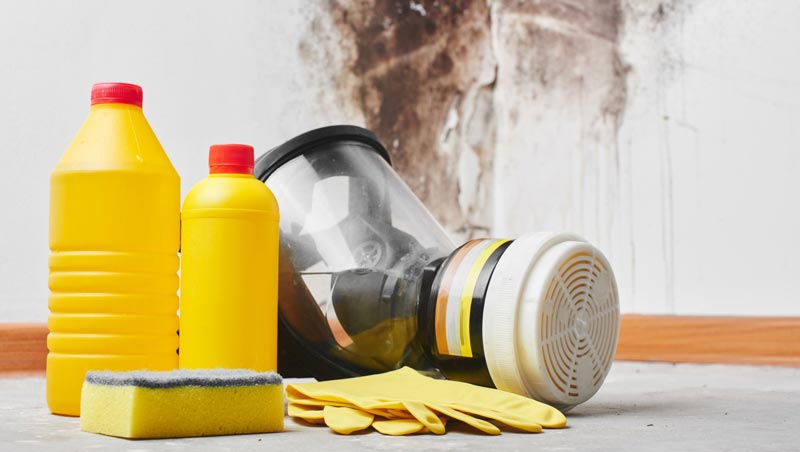 If your home has been infiltrated with mold growth due to a flood, leak, or another water breach, it can start its destructive path within days. Often, mold removal is not enough; materials may have been damaged beyond repair, needing to be removed and replaced. At this point, you can rely on the experts at Connecticut Mold to help you with mold remediation services.
Remediation Services
The amount of time spent remediating your property depends on the amount of damage the mold has caused and the size of the infected area. Mold can quickly spread through the air, landing in various spots of your home. Several rooms can be infected with mold growth, and each must be cleaned and the decayed items discarded. The other part of the process involves repairing any materials in your home that have been destroyed, which will add to the project's timeframe. Before our work begins, we will painstakingly inspect your home and discuss with you the measures we will be taking to remediate the mold in your Easton home.
Mold remediation is a rigorous process, one best left to professionals. While many do-it-yourself shows on television depict demolition and rebuilding as a fun afternoon project, it is a complex, dirty, and potentially hazardous job. There are strict guidelines to follow when remediating mold, and special equipment is used. When you enlist the assistance of the pros at Connecticut Mold, we will remove the mold and clean the infected areas. Then our certified specialists will carefully remove any rotted materials, replace and repair flooring, drywall, or other materials damaged by the mold, and ensure your Easton home is free of mold colonies.
Non-porous materials are thoroughly wiped down with an Earth-friendly, antimicrobial agent to discourage a new mold infestation. However, your home will NOT be free of mold altogether; mold is an element of our ecosystem, so it is always present indoors and out. The mold may still be on surfaces of your house and in the air, but unless it meets a water source, it will not colonize and cause problems. If the water source feeding the mold colony has not been fixed or addressed, the mold will return. The first step in our clean-up process is to ensure the moisture origin will not be a reoccurring issue.
To ensure we find all the mold, our technicians utilize the most advanced equipment, including moisture meters and infrared cameras, to locate any lingering moisture source or hidden mold colonies. Since not all mold is the same, you may want to have it tested to determine the toxicity level of the mold in your Easton home. Like Stachybotrys and Chaetomium, certain black molds produce mycotoxins into the air, potentially harming the people and animals living in the house. Although all mold growth must be removed, it is unnecessary to have it tested. However, having it tested and finding out if you have toxic mold may answer some questions regarding allergy symptoms or other ailments your family may be experiencing.
Mold growth has been linked to various illnesses, including lung issues, cognitive conditions, and exacerbating diseases like asthma and COPD. Removing the health risk is one of the biggest reasons to perform mold remediation quickly. After all the mold has been located, the next step is to have the non-porous items be dried, cleaned, and disinfected.
Porous materials like sheetrock, carpeting, and the wallpaper will have to be removed and replaced if mold has attached to these surfaces. The technicians, dressed head-to-toe in hazmat gear, will gently remove any decayed items by double bagging, sealing, and removing them from your Easton home. By removing these items, the likelihood of cross-contaminating other areas of your Easton home is significantly reduced.
Why Choose Us?
Connecticut Mold is prepared to tackle your home's mold problem as the mold remediation leaders in Easton and the surrounding areas. We have extensive experience, and our technicians are certified and trained in mold inspection, removal, remediation, and other mold services. Our goal is to return your home to its pre-mold infestation state, ensuring it is safe and healthy for your family. We perform follow-up appointments to ensure the house remains free of mold colonies. If your home has suffered a water breach that caused mold damage, contact the licensed professionals at Connecticut Mold for comprehensive mold remediation and disinfection.
Additionally, should you have any questions about mold removal, mold assessment, mold inspection, mold testing, and dehumidification services, call the professionals at Connecticut Mold. We're here to help!